Élisabeth Moreno
Minister for Gender Equality, Diversity and Equal Opportunities, France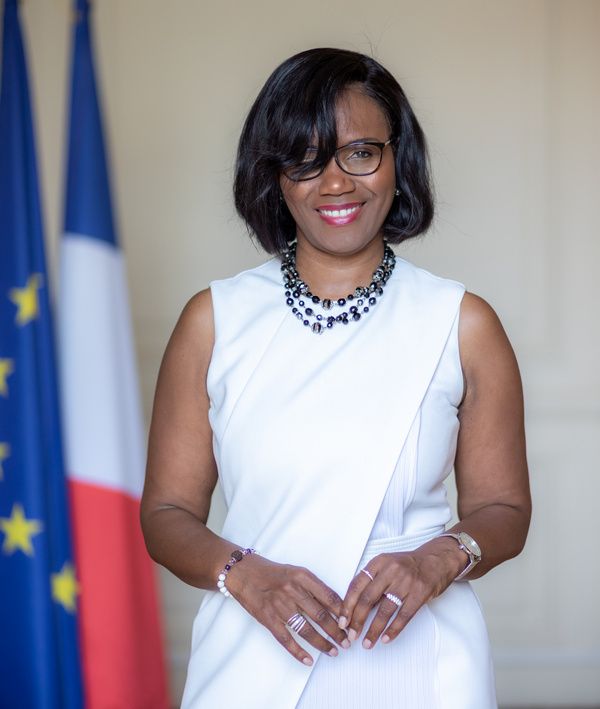 Élisabeth Moreno, Minister for Gender Equality, Diversity and Equal Opportunities, France

Élisabeth Moreno was appointed Minister for Gender Equality, Diversity and Equal Opportunities - reporting to the Prime Minister, in July 2020.

Élisabeth holds a Master's degree in Business Law from the Paris-Est Créteil University and a double Executive MBA from ESSEC and the Mannheim Business School in Germany. She attended the National School of Magistrates where she qualified as a judge at the Tribunal de Commerce.

Élisabeth has spent most of her professional career in business. In 1990, she cofounded a company specialising in thermal rehabilitation that she managed for seven years before joining France Télécom to manage the SME-SMI division for the southern region of Paris. In 2000, she joined the Dell group where, for twelve years, she held successive positions until she became Commercial Director in charge of strategic accounts for Europe, the Middle East and Africa.
Élisabeth joined the Lenovo Group in 2012, where she was responsible for key accounts in southern Europe before extending this responsibility to cover the Europe, Middle East and Africa region in 2015. A year later, she was appointed Chairman and CEO of the French subsidiary of the IT group.
Tell us briefly why you are passionate about being involved with SheDecides?
1. Tell us briefly why you are passionate about being involved with SheDecides?

The SheDecides movement embodies my commitment to feminism and gender equality. As a SheDecides Champion, I want to make sure that women, regardless of their background, origin, sexual orientation, religion or age, can decide freely about their body, life and future. Throughout my life, I've fought - and I am still fighting - to address stereotypes. There have been many times where' I've felt at first that I had no choice or limited options. Each time though, even in the most difficult moments, I made my own choices and defended them at all costs. I would like each and every women in the world to understand that She is the one who Decides.

2. Describe how you are working so women and girls can make decisions themselves about their bodies.

France is a leader for feminist diplomacy that I'm proud to lead. I want to support women's rights and freedom to control their bodies by encouraging the strengthening of legal frameworks and the improvement of health care systems in places where access to sexual and reproductive rights remains unsatisfactory or under threat. The French ministry for Equality between women and men will lead a coalition for action to promote women's sexual rights and freedom over their body, at the Gender Equality Forum that will be held next spring in Paris.

3. How does SheDecides link to your role as the Minister for Gender Equality for France?

A new chapter of my life is to be written as Minister for Equality. It's a tremendous challenge, I realize the degree of responsibility it represents, as the stakes and expectations in terms of women's rights and gender equality are immense. These are battles I have been fighting for many years now. I will take my role as a Champion to heart, as I consider those fights as defining causes of our time. They affect us all and transcend borders. I have always wanted to have a positive impact on society and on people's live. Today, as both a member of government and of SheDecides, I'm happy to take action for women's empowerment.

4. Tell us a story of a moment that drives you to do what you do every day.

I remind myself everyday where I started from. My parents who were illiterate, migrated to France when I was 7 years old. As a teenager, teachers told me I should opt for manual work. Despite their warning about college, I decided to go to university and achieved a law degree. I climbed the professional ladder throughout the years. I became a businesswoman in the IT sector, an area traditionally led by men. I now believe that women, with the support of male allies, have the ability to shatter the glass ceiling. It has not been easy, but I am proud not to have listened to my teachers. This reminds me every day of the importance of believing in your dreams and giving yourself the means to make them come true.

5. Why is it so important we get to a future where SheDecides, without question? How are we going to get there? I believe that when a woman is empowered, society as a whole benefits from it. For instance, numerous worldwide studies demonstrate that the best performing companies are those that respect gender equality. We must therefore plant the seeds of this development. Empowerment is the future! One way to succeed is through education. Through financial independence, independence of mind, independence of choices, we are laying the foundations for emancipation, confidence and self-esteem. The circle can only be virtuous. So why wait any longer?

6. Anything else you'd like to add?

In life, you have to dare. If someone had told me from my native Cape Verde, that I would be where I am today, I would have not believed them. In fact, I ticked many boxes of impossibility: having immigrant parents who were not able to read or write, coming from a large family living in the wrong side of the Parisian suburbs, choosing a male dominated industry… And yet, I'm the living proof that determinism can be broken up. Decide what you want to do. Then, keep your ambitions! But remember that to change the world, you have to dare.