Aaron Motsoaledi
Minister of Health, Republic of South Africa; SheDecides Guiding Group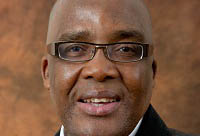 Hon. Minister Dr Aaron Motsoaledi, Minister of Health, Republic of South Africa and member of SheDecides Guiding Group

Dr Motsoaledi served on the Limpopo Provincial Executive Committee of the ANC for 19 years before being elected to the ANC National Executive Committee where he serves today. His current positions include: Minister of Health; ANC Member of Parliament; Member of the ANC National Executive Committee.

Dr Motsoaledi matriculated at Setotolwane High School and completed his pre-medicine course at the University of the North at Turfloop. He obtained his Bachelor of Medicine, Bachelor of Surgery (MB ChB) from the University of Natal in 1983.
1. Tell us briefly why you are passionate about being involved with SheDecides.

I believe in the fundamental concept of SheDecides, which is a world where every girl and woman can decide what to do with her body, her life, her future. The SheDecides movement is shaping itself into something that is more powerful than words, policies or slogans. It can be the defining change in how we address gender equality. The Sustainable Development Goals demand real change – we know that we cannot achieve these global goals if women and girls are not an active part of development. And for women to be an active part of development, they must have control over their own bodies.
2. Briefly describe how the South African Government is working hard so women and girls can make decisions themselves about their bodies.
The principles of South African democracy are enshrined in our Constitution, which among other things enjoins the government to provide good quality health care to all citizens and guarantees all citizens the right to reproductive health. SheDecides builds upon the She Conquers campaign, which was launched by our Deputy President Cyril Ramaphosa in 2016. She Conquers is a campaign focused initially on 22 sub-districts with the worst outcomes for young women, with high rates of HIV, early pregnancy, violence and drop-out rates from school. It aims to empower adolescent girls and young women to make decisions that will improve their sexual and reproductive health, to reduce their vulnerability to violence and improve their educational and economic position.
3. What is the biggest challenge facing women and girls? Why?
The rights of women and gender equality have always been central in our policies and we worked hard to protect the rights of girls and women. Unfortunately, women and girls continue to face many challenges and barriers and many fail to reach their full potential. While HIV is being well managed in the country, rates of new HIV infection are stubbornly high among young women, as is poor access to contraception and high rates of early pregnancy. And the levels of violence against women and girls are unacceptably high. We must do more to involve men and boys in the effort to end this. South Africa recognises that there are areas in which we have further to go in achieving equality for women in our own country, and we will join arms with others to achieve this essential change.
4. How are we going to get to a future where SheDecides, without question - in the South African context?
The government of South Africa will strive to protect the rights of women and girls to make decisions about her body, to ensure these rights are fulfilled and to continue to move the agenda forward. We are guided by our constitution and we will redouble our efforts to protect the rights and health of women and girls. And we will work in partnership with all stakeholders - at national, regional and global level to ensure that barriers and challenges are confronted and addressed. Only last week we circulated to the SADC Ministers of Health a new scorecard to track progress towards the vision of SheDecides which provides a set of core indicators to track progress of the Maputo Plan of Action, 2016-2030 for the Operationalisation of the Continental Policy Framework for Sexual and Reproductive Health and Rights. We are firmly committed to showing leadership at home, and in our region. We know that lasting change will only happen when we achieve a new normal, a world where every girl and woman can decide what to do with her body, her life, her future.