Marlene Schiappa
Minister of State for Gender Equality (Secrétaire d'Etat auprès du Premier Ministre, chargée de l'égalité entre les femmes et les hommes), République de la France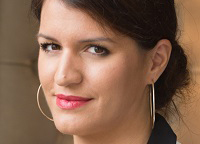 Marlène Schiappa is a French politician serving as the Secretary of Equality between women and men in the Philippe Government since 17 May 2017.
1. Tell us briefly why you are passionate about the SheDecides movement
I grew up in a family where political and social issues such as women's rights were regularly brought up and read Virginia Woolf, Simone de Beauvoir, etc. at a quite young age. I've always been financially independent, ever since I turned eighteen and feel strongly that any woman should be able to decide of the life she want to lead and achieve her dreams free from pressure and fear.
I also have two daughters and their birth made me realize that if I don't do anything now to fight for their rights, they will encounter the same difficulties I have. As a parent it is unacceptable to think that your children could get less even though you're ready to give them the best you can.
2. Describe how you are working hard so women and girls can make decisions themselves about their bodies.
As the French minister in charge of gender equality, it is my duty to make sure that action is effectively taken in order to promote and secure women's rights both in my country and beyond. For instance a law was passed last summer creating a sexist insult offense in order to fight street harassment and allow women to freely dispose of their bodies and wear the clothes they want without any fear.
But my engagement for women's rights and free choice is not new. Before entering politics and the government I was already taking action at my own level through the movement I created called "Mommy's working" (Maman travaille) dedicated to helping working mothers balance their personal and professional lives. Just like it's stated in the SheDecides manifesto, a woman should be able to decide when to become a mother without having this decision impact negatively her career.
3. What is the biggest challenge facing girls and women today? [In France and/or worldwide]
The biggest obstacle facing girls and women in France but also everywhere else in the world is oppression through violence. Indeed, girls and women today are still threatened by potential physical and sexual abuse, whether from their partner or through practices such as excision and forced marriages. It is inadmissible to see that in 2018 an alleged female inferiority could justify such oppression against women. It is also inadmissible to see some countries challenge established abortion rights, more or less insidiously.
Also, if violence seems to be the issue holding the most severe consequences, it shouldn't overshadow other concerns such as inequalities in the workplace.
4. Tell us a story of a moment that drives you to do what you do every day.
When I was thirteen, I moved to the suburbs with my sister and father. I remember him giving us advice on how and where to hit back if we were ever attacked by men in public, making us understand that going out in the street wasn't the same for us girls as it was for him as a man. I came to the realization that a form of injustice existed, and this realization only grew bigger and bigger as I started to work and had a child. Fighting this injustice motivates me to do what I do every day.
5. Why is it so important we get to a future where SheDecides, without question? How are we going to get there?
Women make up more than half the world's population. Ensuring their rights is also ensuring an overall progress. No global improvement can be achieved if women are left behind or oppressed.
Getting there takes time and effort. Mobilizing everyone, all women and men from a young age, seems crucial in order to favor a shift in mentalities. To make sure that we meet such goals, it is important to keep women's rights as a primordial and visible topic, especially in all areas of public policy.
6. Anything else you'd like to add?
As Simone de Beauvoir wrote: "Woman is the victim of no mysterious fatality". All the factors distinguishing women from men, even biological differences can't justify any form of discrimination or oppression. Women's free choice should therefore be the norm and we will work together in order to get there.