Maryam Monsef
Minister of International Development & for Women and Gender Equality, Canada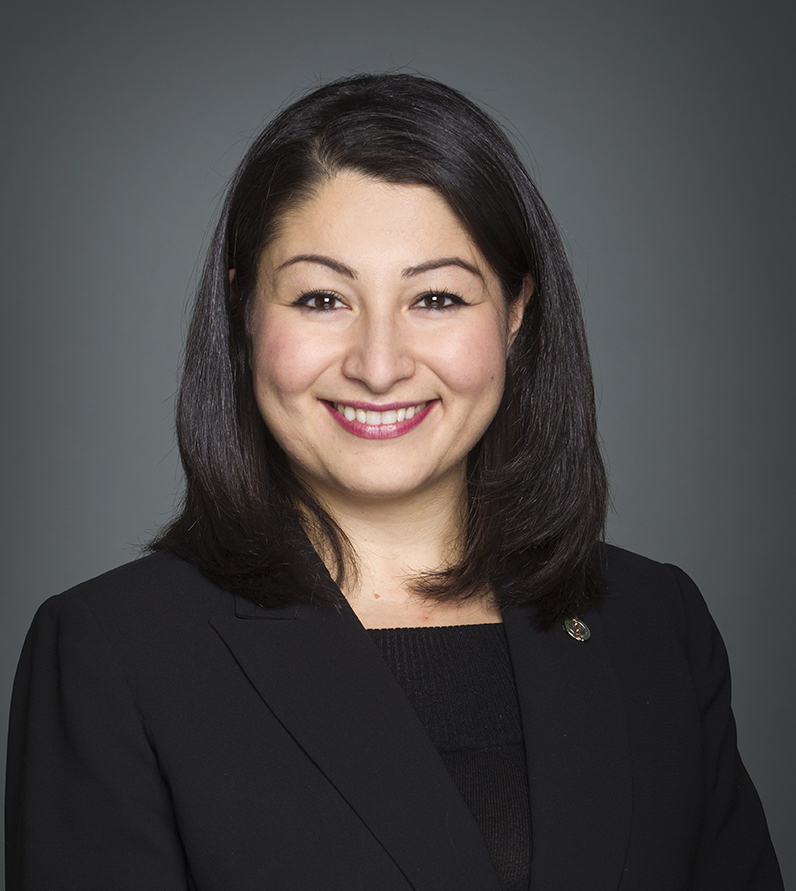 The Honourable Maryam Monsef is Canada's Minister of International Development and Minister for Women and Gender Equality, and the Member of Parliament for Peterborough—Kawartha. She is the first woman to be elected in the federal riding of Peterborough—Kawartha, the first Afghan-Canadian Member of Parliament in Canada's history, and the first Muslim to serve as a federal Cabinet Minister.
As Minister for Women and Gender Equality, she has been a part of a transformative period for gender equality in Canada. She led Status of Women Canada's transition from an agency to the new Department for Women and Gender Equality, and has secured precedent-setting investments in Canada's equality-seeking movement, including over $200 million to support Canada's first-ever federal strategy to prevent and address gender-based violence. Minister Monsef was also instrumental in launching a historic fund of $100 million specifically to support the sustainability of the women's movement by investing in capacity-building for women's organisations across Canada.
Recognised by Apolitical as one of the Top 20 Most Influential People in Gender Policy for the past two years, Minister Monsef has helped to shape the conversation about gender equality on the global stage. She helped lead Canada's efforts to mainstream gender equality and Gender-based Analysis Plus into all G7 work, including during its presidency last year, as well as oversaw the activities of Canada's G7 Gender Equality Advisory Council. She has led the Canadian delegation to the United Nations Commission on the Status of Women for the past three years, represented Canada at the World Bank, and was instrumental in bringing discussions of gender equality to the table at the World Economic Forum.
Tell us briefly why you are passionate about being involved with SheDecides?
Tell us briefly why you are passionate about being involved with SheDecides.
I am passionate about the SheDecides movement because I believe in what the manifesto says: the world is better, stronger and safer when women, girls and people of all gender expressions have control over their own bodies. When they can decide. When their rights are upheld. When they are free. For me, control over your own body is the very beginning of empowerment and is fundamental to achieving gender equality for women and girls.
So it follows that upholding sexual and reproductive health and rights in all situations is fundamental to advancing gender equality and the empowerment of women and girls.
The SheDecides movement is a powerful platform for young women and men to challenge harmful social norms and break down barriers that prevent women and girls from exercising their sexual and reproductive rights.
We will only make progress on gender inequality when women and girls have the resources and opportunities to make decisions about their bodies and futures freely.
Describe how you are working hard so women and girls can make decisions themselves about their bodies.
Between 2015 and 2020, Canada has committed $3.5 billion to improve the health and rights of women, adolescents and children, with $650 million earmarked to close persistent gaps in sexual and reproductive health and rights. And by 2023, the Government of Canada will raise its funding to support women and girls' health around the world to $1.4 billion annually.
Canada supports access to the full range of sexual and reproductive health services and information, including safe, legal abortion and post-abortion care; comprehensive sexuality education; and access to contraception. We focus our efforts on helping the poorest and most vulnerable women and girls, including those living in fragile and conflict-affected states.
We support advocacy for women's rights and changes in policies and legislation, and we work to challenge and break down harmful and discriminatory social beliefs and practices.
At its core, Canada's Feminist International Assistance Policy is about confronting power imbalances that drive and reinforce inequality.
At home in Canada, as minister for women and gender equality, I have worked hard to advance more equitable economic, political and social outcomes for Canadian women and have forged new connections to grassroots organizations advancing equality in Canada. We have also made sure that gender identity and gender expression were explicitly protected grounds in the Canadian Human Rights Act.
What is the biggest challenge facing girls and women today?
I think the biggest challenge facing girls and women today is their lack of decision-making power—at home, in their communities and in their countries. Addressing unequal power dynamics and making sure that women and girls have the opportunity to exercise their power is fundamental to building greater gender equality. That's why I was so pleased to learn that the theme of the Women Deliver 2019 Conference we hosted in Vancouver was power and how it can drive—or hinder—progress and change.
When women and girls lack power, they are more vulnerable to poverty, they have less access to quality health and education services, they have limited control over their own bodies and reproductive choices, and they are more vulnerable to the ongoing threat of sexual and gender-based violence. They also face barriers to work and have limited economic freedom. They are not able to participate equally in decision-making, and they face barriers like child, early and forced marriage or female genital mutilation that severely limit their opportunities and prevent them from reaching their full potential.
We cannot build a better world without the strength and brilliance of half of the world's population. When women participate in governance, states are more stable; when they help shape peace processes, the resulting agreements last longer. When women earn more, they invest more in the well-being of their families and communities. Advancing women's equality could even add $12 trillion to the global economy by 2025.
Tell us a story of a moment that drives you to do what you do every day.
I am driven by community—no matter where or how I find community. Whether it's Peterborough—the community that welcomed me and my family at a challenging time in our lives and gave us so much—or Afghanistan, where my family is from. Or Canada. Or our global community.
I have spent my life so far trying to give back to my communities. I founded the Red Pashmina Campaign to raise money to educate women and girls in Afghanistan, I serve my home community of Peterborough in all of my actions, and I am proud to serve Canada and the global community as minister of international development and minister for women and gender equality.
When we focus on community, when we build each other up, inspire each other, and treat each other with dignity and respect, beautiful things happen. That is what drives me every day. You can be assured that I will serve the SheDecides community with the same passion and commitment that I bring to everything.
Why is it so important we get to a future where SheDecides, without question? How are we going to get there?
Empowerment begins with having control over one's own body and the freedom to make decisions about one's life.
How do we get there? By standing up and speaking out for a woman's right to control her own body, make her own decisions and shape her own future—every chance we get. By advocating and bringing everyone on side—including the not-so-usual suspects: men and boys, and religious and cultural leaders. You can count on me to do this every chance I get.
A more gender-equal world will benefit all of us. You know that, I know that, and we need to make sure everyone knows it.