Karina Gould
Minister of International Development, Canada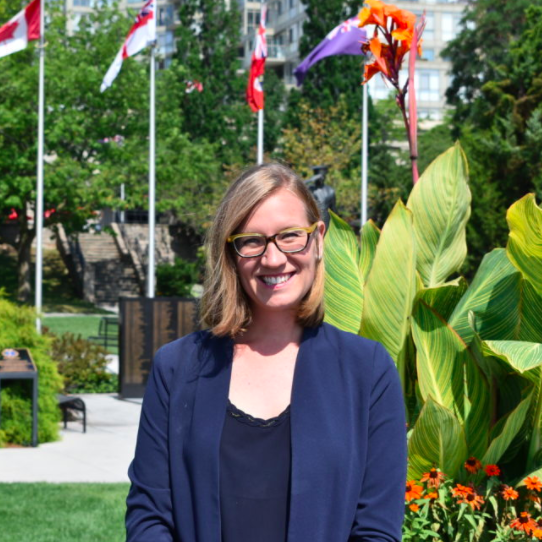 On SheDecides Day 2020, Minister Gould - International Development Minister, Canada became a the latest SheDecides Champion.
"More than ever, Canada remains committed to leading the way in women's health. Together we can make a difference. As a Champion I will stand up, I will speak out and I will advocate for change so women and girls have control over their bodies, their health and their future." Minster Gould.
Tell us briefly why you are passionate about being involved with SheDecides?
1. Tell us briefly why you are passionate about being involved with SheDecides
I am passionate about the SheDecides movement because I believe in what it stands for: the world is better, stronger and safer when women, girls, other marginalized genders, in all of their diversity, have control over their own bodies, lives and futures and their right to choose is fully accepted and supported.
The SheDecides movement is a powerful platform that amplifies young women and men speaking out, challenging harmful social norms and breaking down barriers that prevent women and girls from exercising their sexual and reproductive rights. Upholding sexual and reproductive health and rights in all situations – and particularly in crises – is fundamental to advancing gender equality and the empowerment of women and girls. Especially in the context of COVID-19, we need to address the gendered impacts of crises and pandemics, and not lose ground on sexual and reproductive health and rights and gender equality.
2. Describe how you are working so women and girls can make decisions themselves about their bodies.
As Minister of International Development, I am proud to lead the implementation of Canada's Feminist International Assistance Policy, which has made Canada one of the leading donors globally in support of gender equality, women's rights and comprehensive sexual and reproductive health and rights.
Canada supports access to the full range of sexual and reproductive health services and information, including safe, legal abortion and post-abortion care; comprehensive sexuality education; and access to contraception. We focus our efforts on helping the poorest and most vulnerable women and girls, including those living in fragile and conflict-affected states. We support advocacy for women's rights and changes in policies and legislation by using our voice to challenge and break down harmful and discriminatory social beliefs and practices. By 2023, Canada will raise its funding to support women and girls' health around the world to $1.4 billion annually, with $700 million of that going specifically to support sexual and reproductive health and rights.
We also work to bring together governments and other stakeholders to bridge cross-cutting issues and build consensus to advance the rights of the most vulnerable and marginalized. On June 22, 2020, I was pleased to co-host the #SheDecidesNow Champions Roundtable where Champions and dynamic young activists spoke first-hand about their experience and the impact of the COVID-19 crisis on youth, on access to abortion, on gender based violence and on LGBTQ2I people.
3. How does SheDecides link to your role as the Minister of International Development for Canada?
Canada's Feminist International Assistance Policy is about challenging power imbalances that drive and reinforce inequality. We recognize that transforming social norms and power relations is necessary to empower women and girls so they can improve their own lives and those of their families, communities and countries.
As Minister of International Development, my goal is to ensure every girl, every woman is treated with respect and has the right to decide about her body, her life and her future. Adding my voice to the SheDecides movement is a way to advocate for change for women and girls. It also creates opportunities to convene discussions with a variety of stakeholders to bring marginalized, unheard and underrepresented voices to a wider audience.
Bodily autonomy and gender equality are at the core of so many international development issues including health, education, climate change and ultimately are essential to eradicate poverty. For this reason, we will ensure that by 2021-22 no less than 95 percent of Canada's bilateral international development assistance initiatives will target or integrate gender equality and the empowerment of women and girls.
4. Tell us a story of a moment that drives you to do what you do every day.
As Parliamentary Secretary to the Minister of International Development (2015-2017), I had the chance to travel to Ethiopia. While there, I visited a health clinic in a rural community. The local community health worker who ran the clinic was proudly showing me all of the tools and interventions she had to support health in her community. She showed me the scale to weigh newborns, the nutritional supplements she had on hand, the exam room where the vaccines were stored, etc. Then she showed me what she was proudest of: her 15 year old daughter. She explained, that her daughter, unlike her, would be able to make choices about how her life would unfold. That she wouldn't have to have an early marriage, that she was going to school to become a nurse and that because of the birth control now available, she would choose if, when and how many children she would have. She reiterated for me that what she was most excited about was that young women, like her daughter, would have autonomy over their bodies and therefore over their futures; that young women in her community offered hope for the future.
5. Why is it so important we get to a future where SheDecides, without question? How are we going to get there?
Gender equality will not exist until women have autonomy over their bodies. You can do all the women's economic empowerment programing you want, but if SRHR is off limits, then you aren't truly committed to the pursuit of equality.
Until we fundamentally recognize the role that a woman's ability to make decisions over her own body and her own life, we will not achieve gender equality. Empowerment begins with having control over one's own body and the freedom to make decisions about one's life. Decision-making power is at the core of addressing unequal power dynamics – at home and in communities and in politics everywhere.
6. Anything else you'd like to add?
If we truly believe in achieving the SDGs and creating a more inclusive, more equitable world, with better outcomes in health, education, nutrition, economic growth and environmental sustainability, then we must double down on our work to ensure that every woman, every girl, has the right and the ability to control her body and her future. We need to continue to reach out to allies across the globe to bring others along on our journey for equality.