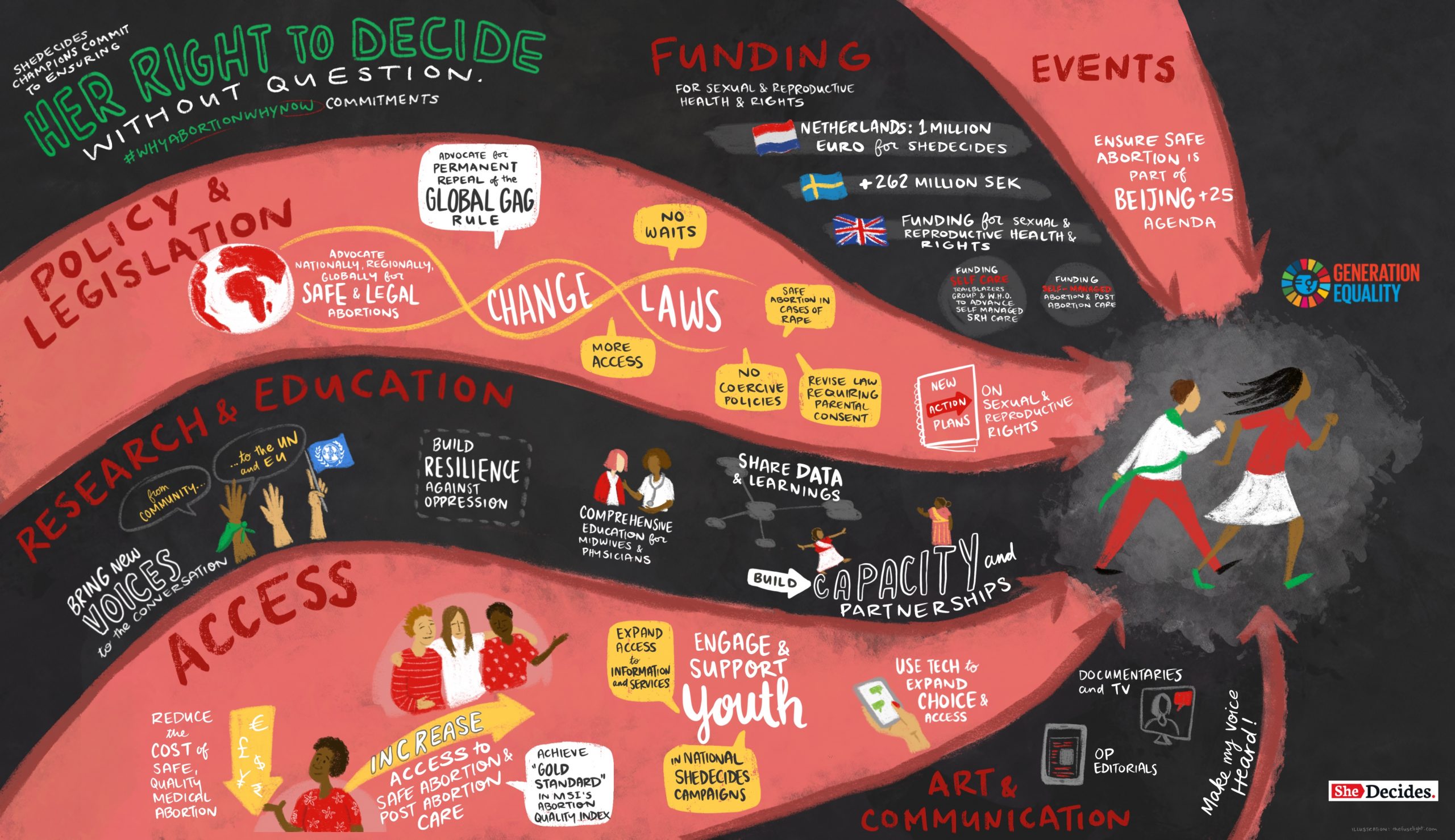 On 2 December 2020 SheDecides Champions came together to address the urgency of ensuring access to safe and legal abortion. They made the following commitments:
1. To advocate for access to safe and legal abortion to be included within the priority actions of the SRHR AC for Beijing+25
2. To support and elevate the voices of youth activists working on sexual and reproductive health and rights issues, including access to safe abortion.
3. Through the creation of a Learning and Development role, roll out recently developed training around values and attitudes to facilitate internal discussions and build capacity on access to safe and legal abortion.
Norway commits to protect and promote universal access to sexual and reproductive health and rights for all – including girls, youth, and marginalized groups, at both national and international level.
The Government launched (June 2020) a new action plan on sexual and reproductive health and rights (2020-2024) that follows up international commitments on sexual and reproductive health and rights (SRHR) at a national level. The goal is good health and well-being.
At national level the Government is currently preparing a new action plan to follow up the existing Action plan against negative social control, forced marriage and genital mutilation (2017-2020) – The Right to Decide about One's Own Life. The new plan is to be launched in the spring 2021.
Norway commits to strengthen access to sexual and reproductive health services for the affected population in humanitarian response. Protection against SGBV is an important component of Norway's humanitarian strategy. Norway will also commit itself to increasing the percentage of bilateral development assistance that has women's rights and gender equality as a primary or significant goal from 33% to 50%.
Norway commits to invest approximately NOK 10,4 billion in sexual and reproductive health and rights for the period 2020-2025. This includes approximately 9,6 billion to SRHR for the period of 2020-2025, and NOK 760 million for the period 2020-2023 to eliminate harmful practices. In addition, Norway commits NOK 1 billion for the period 2019-2021 to protection against SGVB and provision of sexual and reproductive health services in humanitarian situations."
IPPF works to ensure that every woman and girl has the human right to choose to be pregnant or not and we will continue to lead in the provision of safe abortion services and care.
IPPF is committed to reducing the harm and number of deaths of women and girls who have no choice but to turn to unsafe abortion. Our commitment is to Make Abortion Safe. Make Abortion Legal. For all Women and Girls. SheDecides.
So by 2022, IPPF will expand access to safe abortion care centred on three principles – rights-based, reproductive justice and gender transformative – with a focus on the following strategies:
IPPF will expand and improve the provision of abortion care through 102 Member Associations, including quality medical and surgical abortion, person-centred abortion self-care support; and abortion care beyond 12 weeks gestation through a simplified outpatient model using task-shifting to mid-level providers.
IPPF will fully integrate abortion care into humanitarian preparedness and response as full realization of SRHR, with all IPPF emergency responses providing abortion care as a standard part of the MISP.
IPPF will advocate for the decriminalization of abortion and the removal of coercive polices and legislation on abortion in 20 countries, and advocate to donor governments and agencies to remove restrictions preventing work and dialogue on abortion, including the permanent repeal of the Global Gag rule.
As the #SheDecides Champion in Senegal, I commit to support the campaign for safe abortion in case of rape launched in Senegal by several Senegalese associations in respect of the Maputo Protocol. I believe that no woman and girl should be forced to keep a baby she does not want to keep, and she doesn't desire. By maintaining the penalization of abortion, the Government of Senegal is applying double punishment to the victims of rape and incest who are left with only option of unsafe/clandestine abortion or infanticide if they don't wish to pursue the pregnancy. I am aware that the current ask is still not enough as safe abortion is a human right and should be granted to any woman or girl who wants it. But safe abortion in case of rape and incest will already be a huge step knowing the level of resistance among religious leaders and from a big portion of the population. Our ultimate goal is to bring the government of Senegal to de-penalize abortion without question. I commit to use my voice, image, and influence to make this campaign successful. I also commit to support the SheDecides Coordinator and the youth involved in the movement in Senegal in their activities related to the safe abortion campaign by mobilizing my network and connecting them with potential supporters, donors and being present physically in the activities they will undertake.
Bience Gawanas commits to supporting the young advocates in Namibia in their fight on SRHR generally, and on abortion specifically. Her commitment is to bring together a group of experienced campaigners who will support and mentor the young activists (including Beauty, the drafter of the petition) in their fight.
FIGO is the world's largest alliance of national societies of obstetrics and gynecology dedicated to the health and well-being of women and newborns. Our organizational structure reflects this alliance, bringing together our member societies and regional federations with strong support from our Secretariat in London. FIGO has more than 130 membership societies in five regions. No other partnership has the geographic reach and penetration to mobilise its global network to collaborate and promote the health and well-being of women and newborns. Here, as a participant and Champion with "She Decides," FIGO commits to leading efforts to achieve access for safe abortions for all women around the globe. FIGO appreciates that abortion access is but one element of comprehensive women's health and sexual and reproductive health and rights.
FIGO's mission is to elevate the status of women's health, reduce disparities in healthcare for women, and advance the science and practice of obstetrics and gynecology through our pillars of education, research implementation, advocacy and capacity-building. FIGO hosts a triennial World Congress and in Rio de Janeiro in 2018, Noemi Olivera shared her personal story from Uruguay on restrictions and challenges in accessing abortion care. She challenged leaders from all countries to learn from this exchange and lead efforts in their own countries.
FIGO will lead efforts with the medical fraternity to understand the circumstances under which safe abortion services in public health facilities are expected to be provided. FIGO will lead global efforts to understand the capacity of national societies to lead advocacy efforts. FIGO is in a position to share learning experiences between countries and regions to improve access to safe abortion. Women die because some health professionals are unwilling to advocate or provide safe services. The challenge is overcoming cultural and regional barriers, joining with key stakeholders, to advocate and broaden the scope of services. FIGO commits to leading efforts with their member societies to increase awareness of the law and guidelines. Through our current project, 'Advocating Safe Abortion', we are developing communication strategies to dispel stigma and discrimination of both women and health providers as well as supporting capacity building within the National Societies in order to imbed the initiative. FIGO advocates for a strong alliance with Ministry of Health representatives, members of other medical societies, and nongovernmental organizations. FIGO can effectively work with their societies to increase capacity and develop a cadre of well-trained members to advocate for safe abortion within the limits of each country's legal framework.
Recognizing the value of sharing strategies and successes in improving access to abortion care, in 2016, Professor Lionel Briozzo from Uruguay summarized twenty-five years of improved awareness, shifting politics, and health care strategies. Their model for reducing the risk and harm of unsafe abortions coincided with a marked reduction in abortion‐related maternal mortality in Uruguay. The challenges still to be faced include managing second trimester abortions, ensuring the creation of multidisciplinary teams, and offering postabortion contraception. FIGO shares the knowledge gained from member countries and shares it broadly.
FIGO realizes that 2020 has challenged all who advocate for health and well-being across the lifespan. COVID-19 has resulted in restricted access to contraception and safe abortion services, with the poorest and most marginalized women and girls affected the most. Supply chains are leading to a shortage of medications and contraceptives. Economic insecurity is restricting people's ability to pay for services. The contagion is thinning the ranks of doctors and nurses. Quarantines, travel bans, and closed borders are making physical access to safe services increasingly challenging. FIGO will continue to advocate for abortion as an essential health service; abortion is time sensitive. FIGO will continue to educate our societies and members that abortion rates are similar whether access to abortion is freely available or restricted, but where access is restricted women are more likely to resort to unsafe abortion outside of medical regulation. These conditions are detrimental to women, their families and the healthcare system. Health System responses to COVID have the potential to free up providers and ensure that access to lifesaving services is maintained. These solutions include telemedicine; easy access to mifepristone and misoprostol; removal of unnecessary waiting periods; digital patient education initiatives highlighting the safety of abortion and ensuring the availability of abortion in different settings to the full extent of the local law.
FIGO will also continue to lead education and capacity-building efforts through our Webinar series aimed at global responses. During this COVID-19 pandemic, telemedicine offers a means of safeguarding women and providing for their critical health care needs. The evidence is clear that an in-person meeting is not essential to the provision of safe and effective abortion services, with the World Health Organisation recommending that women can safely self-manage medical abortion in circumstances where they have access to appropriate information and to health services should they need or want them at any stage of the process.
This modern and practical way to provide abortion care is already in use by Marie Stopes Australia. In the UK, telemedicine is also used to consult with doctors via the web and access medicine remotely. Yet the 1967 law governing abortion provision does not allow the same practicalities for women with an unwanted pregnancy. However, in response to the need to minimise the risk of spreading infection to women and their health care workers during the Covid-19 crisis, the Department of Health in England and also in Wales have announced they will make the simple changes necessary to allow women to take both sets of pills required for an early medical abortion in their own homes, without the need to attend a hospital or clinic. It is hoped that this example will be used as a catalyst for change in other countries. In the United States, individual states are interpreting cancellation of elective procedures as a means of eliminating access to abortion. As ACOG points out, although most abortion care is delivered as an outpatient as it is in many countries around the world e.g., India where over 90% is carried out in this way, some cases need a hospital-based setting or access to surgical facilities. Abortion is an essential component of our health care system, and a time-sensitive procedure. Any delay, whether days or weeks, has the potential to profoundly impact the health and well-being of women
FIGO supports services and these must be sustainable and resilient. It has committed to serve women safely as we navigate these uncharted waters and we call on governments to do the same. Changes need to be implemented swiftly to save lives and prevent further strain on medical services, and we need long-lasting changes that will safeguard women forced to seek unsafe methods. FIGO's Committee on Safe Abortions will present a summary of global recommendations
Women will always need abortions. Whether they can access them safely and with dignity depends upon every one of us to rise to the challenge to provide them."
I am pleased to represent Frontline AIDS as a SheDecides Champion.
Safe abortion, freedom from coerced abortion, and post-abortion care are key aspects of sexual and reproductive health and rights for all who need these services, especially adolescent girls and young women, women living with and most affected by HIV in their diversity, and trans masculine, gender diverse and intersex people who may need to access abortion services.
1. Frontline AIDS commits to advocating in national, regional, and global spaces for safe and legal abortion for all who need it
We will work with partner organisations and Action Coalition leaders to ensure safe abortion is part of the Beijing+25 agenda. And we will join with US colleagues and advocates around the world, to push for the permanent repeal of the global gag rule as soon as the Biden-Harris administration comes into office.
2. Safe abortion has been a neglected area within the HIV field. Frontline AIDS commits to asserting the Guttmacher-Lancet definition of comprehensive SRHR, that underscores safe abortion as a neglected issue, by strengthening capacity within Frontline AIDS global and partnership to implement inclusive and integrated SRHR service models, including safe abortion.
We acknowledge the leadership of the Dutch government and Liliane Ploumen and through our Dutch-funded READY+ programme, we will work closely with UNESCO towards the integration of CSE into school curriculums and will use the IPAS toolkit and guidance to ensure safe abortion is included in CSE programmes.
Acknowledging Minister Eriksson's SheDecides leadership, and with thanks to Swedish funding, through our SRHR Umbrella programme in Uganda we will undertake rapid assessments on community attitudes to abortion.
Finally, with acknowledgement to Baroness Sugg's leadership and the commitments made by the UK Government, through our UK AID Connect programme 'ACCESS' – delivered jointly with IPPF – we will use pilots to explore SRHR-HIV interventions which include abortion for scale-up in complex environments"
Our commitments in international fora and what we can do.
President Macron put gender equality as a major priority for France and wants to elevate it to a great global cause. As part of our feminist diplomacy, France engaged in a strong advocacy for gender equality and especially sexual and reproductive health and rights, and the right for safe abortion.
This is why President Macron reiterated the importance to secure safe abortion for women, at the highest level, at the General Assembly of the United Nations last September.
But it is also our duty to create new spaces for women and girls, so that they can raise their voices as well and speak up for their rights. And that is the reason we will be hosting the Generation Equality Forum in Paris in June 2021.
As some of you may already know, one of the 6 coalitions to be launched at the Forum will focus on Bodily autonomy and sexual and reproductive health and rights. France along with Denmark, Argentina, Burkina Faso and North Macedonia, UNFPA, the children investment fund foundation, here today with us, and others decided to become co-champion of this coalition.
The Generation Equality Forum will be a great momentum to be bold, ambitious and innovative to advance SRHR and abortion rights. It is an opportunity to tackle issues that are paralyzed by conservatives countries at the United Nations.
But our engagement is not only at the international level. Abortion is not only a foreign affairs issue. It is of course a domestic issue.
Recent actions in France on abortion:
This period marked by the COVID-19 epidemic must not call into question our most fundamental values: those of women's emancipation and their right to control their bodies.
This is why France took specific actions to ensure the access of women to abortion during the COVID-pandemic.
As of March 2020 the consultations necessary for medication abortions could be carried out in the form of teleconsultations.
The Government extended the time limit for performing medical abortions from seven to nine weeks of amenorrhea; local doctors and private midwives were encouraged to maintain medical abortions and health facilities, and to ensure the continuity of instrumental abortions.
We have replicated this flexible framework during the second lockdown France is currently experiencing.
Regardless of the method chosen, the costs related to the abortion are covered 100% by the public health insurance.
Commitment to put a written question to the Belgian Foreign Minister Wilmès regarding the situation in Poland. In short:
What steps has our country, as a fully-fledged EU Member State, taken to condemn this verdict?
What more can we do to force Poland to assume its responsibility for human rights and women's rights? This both from our federal government and from our representatives to the EU.
In other EU countries, too, the fight for safe, legal and free abortion remains necessary. Will Belgium call for the right to abortion to be protected in all EU Member States?
On 5 November 2020, a compromise was reached between the European Parliament and the European Council to protect the rule of law conditionality in the EU. The current Polish Government has been trying for 5 years to undermine the rule of law in their country. The success of their efforts has led to this ruling of the Constitutional Court, which directly affects not only the rule of law conditionality, but also human rights. Can the new mechanism, when approved, be used to confront the Polish Government with these disgraceful practices?
I will commit to produce at least 3 opinion-editorial either in collaboration with other Champions or with local Phlippine activists.
Moreover, I will organize at least one workshop directed for young people and breed new youth cohorts to advocate for safe abortion advocacy. The goal is to ""communicate to enlighten " social norm change and political change. "
Beyond our ongoing financial commitment, Canada is committing to bringing new voices into the conversation and the movement through strengthened engagement and partnerships with a core group of Latin American countries, with a view to helping consolidate efforts in the region in the area of comprehensive sexual and reproductive health and rights.
We are also committed to looking inward at how access to abortion is shaped by domestic policy in the neglected areas of advocacy, comprehensive sexuality education and access to family planning and contraception.
CIFF has been investing in adolescent sexual health since 2012. In 2018, we made our first investment specifically targeting the prevention of unsafe abortion and enabling young people to access services safely in Sub-Saharan Africa.
Over the next five years CIFF will increase its ambition to end unsafe abortion for women and girls. Specifically, we commit to:
Working to reduce the cost of safe, quality-assured medical abortion by ending the price premium on procurement and ensuring affordability for girls and women.
Embedding human-centred design in delivery models to prevent unsafe abortion and link young people to comprehensive post-abortion services.
Funding the Self Care Trailblazers Group and the World Health Organisation to advance self-managed SRH care – including self-managed abortion and post-abortion care, as a means for health systems to build back better.
Finally, but equally important, making our sector more resilient in the face of a growing, localized opposition and regressive movements that aim to undermine women's bodily autonomy and their right to be agents of their own healthcare."
Research shows that broad-based social movements are one of the most effective mechanisms to create and sustain long-term social transformation.
Under Global Fund for Women's new strategic plan, we are doubling down on our support of gender justice movements, working to increase abortion access, including self-managed abortion.
At Global Fund for Women, we understand and uphold that access to abortion is a critical human right.
As a feminist fund, we grant intersectionally to work towards a future in which ALL people have access to abortion – across age, race, class, gender, and ability.
Lilianne Ploumen is committed to working on
Current domestic legislation – she will push to remove the current waiting period before an abortion.
She will lobby Parliament to improve access to safe abortions by having both GPs and abortion clinics offer abortion services.
She will continue to campaign for free contraception for every body
She will launch and push the Change.org GGR petition, asking the new Administration to repeal it forever and with immediate effect
She will put pressure on the Dutch government to challenge developments in Poland. "
A series of multimedia products (blog, press release, masterclass, videos, and so on) uncovering new entry points and untapped potential across 3 key areas:
1. Building on our work with SRHR profiles in the region to identify new entry points for engagement and traction across the 22 Arab states
2. Understanding what the upcoming change in the US administration means for SRHR – at the national and international levels
3. Exploring untapped sources of traction and funding through strategies for engaging the "movable middle""
My commitment is both in recognition of the #WhyAbortionWhyNow campaign and the upcoming 2021 International Year of Creative Economy for Sustainable Development, my commitment is to write an original film or TV script that relays the urgency of our need to protect the right to safe abortion for all women everywhere. My focus will be to use a narrative storytelling device to create an award-winning script with strong story structure, compelling characters, a unique plot, etc that will be strong enough to submit to screenwriting contests/festivals and ultimately try to get produced.
I believe given my success with my first feature script (""A Revolutionary Act"" which has placed in top tier festivals including the Academy Nicholl Screenwriting Fellowship), and committing to telling a justice-driven story with a strong female lead, that I can get this important issue in the eyes of the gatekeepers of film and/or television in a unique manner.
The UK is committed to significantly increasing access to affordable and safe medical abortion in low and middle income countries around the world. To achieve this:
Cover the cost of procurement for high quality medical abortion through our £425 mill commitment to UNFPA supplies 2020 – 2025. We want to make sure funding is not a barrier for any of the UNFPA supplies countries that wants to offer safe medical abortion
Want to partner with governments to improve the availability of safe medical abortion
Increase the market of suppliers that offer those high quality affordable medical abortion technologies to bring down the price and enable governments to purchase.
In my new institutional role I want to increase funding and programs. In my individual capacity my commitment is to use my voice, my knowledge, my networks to fight stigma and discrimination. And from now on I will not be pushing back against the erosion of rights, I will only be pushing forward.
To collaborate with the SheDecides Movement – and specifically Champions – to build momentum to ensure the decriminalization and legalization of abortion in Argentina. I will be asking some of your for your help – your bold actions will be key to making this change a reality for Argentina.
Commitment 1:
FEMNET will work with young feminists in all their diversities and Women Rights organizations and movements across the African region to ensure that they push for Women Rights and Rights to access safe and legal abortion across Africa and work with them to engage them in policy spaces where they can make governments commit on issues affecting women sexual reproductive health and rights and promotion of bodily integrity and autonomy of girls and women which are fundamental rights.
Commitment 2:
FEMNET will commit to galvanizing, lobbying, mobilizing and influencing feminists in all their diversities in Africa, Women Rights organizations and movements in Africa to ensure that they follow up on the sexual reproductive health and rights commitments made during the ICPD+25 conference held in Nairobi. While engaging and ensuring women voices are represented into the policy and advocacy spaces while ensuring that governments make commitments to address the commitments made and for African government to #Follow the protocol
Commitment 3: Something on GGR and Geneva Convention
FEMNET led by me will commit to work with like mined champions to confront African governments that signed on GGR and the Geneva Convention to reconsider their positions and mobilize the African feminist movement to put pressure.
Commitment 4:
FEMNET will commit to engage and build alliances with religious and cultural institutions in-order to demystify SRHR for women and girls. FEMNET's Men to Men Strategy for engaging men and boys provides a solid ground that has been tested in promoting social change interventions in Africa. Religious and cultural leaders who are knowledgeable on women 's rights can be key allies in promoting access to safe abortion as a right away from religious dogma or cultural beliefs.
Additional funding for SRHR – where access to safe abortion is a priority – to be disbursed before end of the year, amounting to a total of 262 Million SEK.
Next year the financial and political commitment to SRHR and rights/access rights to abortion will continue and will be voiced and promoted at all levels including in the EU and at the UN.
As co-chair of the Action Coalition on Bodily Autonomy and Sexual and Reproductive Health and Rights, Denmark will promote progress and commitment to all SRHR services, including women's access to safe abortion.
Denmark will combine this with substantial support to civil society organisations working with safe abortion services from a rights-based approach.
(1) Continued support for the revision of the Zimbabwe law that requires parental consent be issued for minors requiring any SRHR treatment – including access to post abortion care
(2) OpEd/media piece on her advocacy journey (the personal is political) – as an advocate, a doctor and a politician who has worked tirelessly for access to safe and legal abortion."
The timing of this meeting could not be better. Safe abortion is a topic that deserves our attention, especially now. The COVID-19 pandemic has led to interrupted access to sexual and reproductive health services, including for abortion. And across the world, regressive movements are getting stronger, domestically and internationally. I'm deeply concerned about the attempts of governments to curtail women's ability to control their own bodies.
As a SheDecides Champion, as a minister, and as a political leader I stand firm for the right to decide about your own body, including the right to safe abortion. Let me be clear: this is a human right.
Since many years, the Netherlands has consistently defended and promoted this human right, politically and financially. Together with many of you.
Last year, I spoke during the UNGA and at the ICPD Nairobi Summit on behalf of around 60 countries in support of SRHR, gender equality and women's rights. I was glad to see that this number increased to 82 last October. We will continue to work hard to enlarge this group, to stand stronger and united for bodily autonomy.
As the Netherlands, we will continue to combine our political message with financial support for SRHR, including for safe abortion. A substantial part of our annual SRHR budget of EUR 420 million is dedicated to these areas where others may shy away.
As part of that SRHR policy, I therefore commit to continue to support and work together with important partners such as IPPF, MSI, IPAS and the Safe Abortion Action Fund to improve access to safe abortion.
I hereby also announce that I will support SheDecides with EUR 1 million for its work in 2021."
To work with others to ensure that by 2030, every woman and girl is only one contact away from a safe provider and that no abortion will be unsafe.
Strategies to achieve this to include:
Services
• Increase safe abortion and post abortion care (SA/PAC) access to the 'last mile' beyond the reach of national healthcare systems.
• Establish public sector partnership models to transition towards national SRHR ownership of SA/PAC.
• Expand access to adolescent SA/PAC information and services.
Advocacy
• Remove legal, policy and registration barriers to SA/PAC.
• Forge new partnerships at multiple levels to remove stigma and normalise safe abortion as essential health services and an everyday part of people's lives.
• Proactively share our SA/PAC insights, data and evidence to shape others' actions.
Quality
• Ensure high quality products and information reach women and girls, with the opportunity to access additional support if they want or need it. By 2025 for all MSI country programmes to achieve "gold standard" in MSI's Abortion Quality Index.
• Harness digital technology to expand choice and access (e.g. through telemedicine).
• Dramatically expand expansion to medical abortion via social marketing, to put control into the hands of women and girls, and to raise standards for the sector.
I commit to engaging with more young advocates and activists using traditional and digital methods of communication. I commit to going beyond my gender circles in my advocacy and include creatives in fashion and art to join our movement.
I've often felt that I can't speak about gender inequality, abortion rights, or its impact on the potential of women because I'm not an expert. I want to affirm to myself and other young people that you don't have to be an expert, experience is enough. What you have to say matters and should be heard. Therefore I commit to encouraging other young influencers to use their voice and let the world know #WhyAbortionWhyNow.
International Confederation of Midwives will ensure that all midwives have access to resources and training materials, about the evidence on medical abortion produced by WHO in 2021
I commit to upholding a bold set of values around abortion globally that include: women/people having choices over the method of abortion (medical or surgical and with a provider or self-administered), with full information and no bias, services being of high quality and stigma-free, and people being treated with respect and dignity. I will use my voice to tell stories of our grantees and their successes as well as step aside for others to share their stories such that they inspire and motivate others.
Due to the stigma surrounding abortion that exist in almost every society- (among policy makers, political leaders, religious and traditional leaders, communities), many women especial young women below age of 25 are not able to openly discuss this issue, seek advice or counselling or readily access safe services. Once a young woman has taken the decision to terminate a pregnancy, it is often something that she keeps from her family, friends and future partners throughout the duration of her life. In Sub-Saharan Africa, over 60 per cent of unsafe abortions are among women younger than 25 years. Their voice is important in order to demand policy change. I therefore commit to produce a 30min documentary to further raise awareness on the impact of unsafe abortion among young women in Sub-Saharan Africa.
Start a five year partnership Right Here Right Now in Bangladesh, Benin, Burundi, Ethiopia, Kenya, Indonesia, Morocco, Nepal, Tunisia, Uganda with a strong focus on young people and their advocacy on SRHR and safe abortion in country. And building on that at regional level and global level – including the UN and the Human Rights Treaty Bodies
To advocate for change of the law on abortion in the Netherlands to become more women-friendly by creating access to medical abortion via the General practitioners and by abolishing the five day waiting period
Finalize our Safe Choice programme and reach our goal to have prevented 2,6 million unsafe abortions
Engage more young people in our national SheDecides campaign to become active advocates and future leaders on safe abortion"
In 2021, I will organize a training network of trainers on reproductive health, which prioritizes in its work the issue of attacks on abortion, removal of stigma from abortion and the provision of quality assistance services (information and resource) for those in need in Belarus – at least 35 trained people.
I pledge to involve local feminist organizations in countries such as Belarus, Russia, Ukraine, Armenia, Poland in regional and global advocacy on platforms as the Beijing Platform for Action, the European Youth Forum on the Need to Advocate for the Right of Abortion, so that they share their field experience and suggested specific actions working in their local contexts – not less than new 10 organizations-advocates.
Please note that the visual representation above is the artists' depiction – and that not all Champions committed to everything mentioned.