Do Something! Stand up, Speak out.
In order to create a world where every girl and woman can decide what happens to her body there is a need to stand up, to speak out and publicly express support for the full vision of the movement.
Everyone can be part of the effort to raise awareness, to educate and to inspire others around the world to become a part of SheDecides.
We can change narratives in order to change norms that stand in the way of the freedom, rights and dignity of women and girls. Our manifesto, the vision of the movement, talks about these critical issues in fresh, positive language that resonates with people all over the world. It counters the divisive ways people often speak about these issues, and oppress women and girls.
Hundreds of organisations have signed the manifesto to declare that they stand by the SheDecides vision.
As an organisation, you are in a position to publicly align yourself with the values of the SheDecides movement by using some of the below tools in an organisational capacity. If you would like your organisational logo listed on the SheDecides website, contact the SheDecides Support Unit.
As both an individual and an organisation, you can stand up, speak out and demonstrate your support of SheDecides and the movement in many ways, such as actions like these: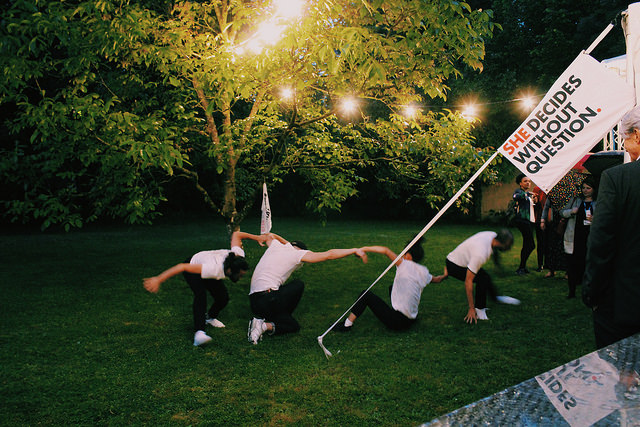 Artistic? Creativity sits at the heart of the SheDecides movement. SheDecides recognises that creativity and emotion are powerful elements of activism. The arts create space for unique interactions. Engaging with people's emotions they take forward the goals of the movement, and promote goals the vision in ways that make a difference.
Collaboration between those in the traditional health, development and government spaces with those in the arts, from painters to dancers, is part of what drives the movement forward and accelerates the change we work towards.
Share information, data, evidence, stories, learnings about what happens when girls and women do decide – and examples of when they are blocked from deciding for themselves.
Got a story to tell? Unfortunately, millions of girls and women are still prevented from making decisions about their bodies – and these stories must be shared for the world to take notice.
here are also plenty of tales of courage, progress and success and these, too, must be amplified to give others hope that they can also achieve change. If you, or someone you know, has a story to tell please do get in touch.
To access SheDecides brand assets and the Style and Identity Guide, click here.