A Heart Wrenching Story amidst the Covid19 Pandemic
4th June 2020
By
Evans Ouma,
Programs Manager at Stretchers Youth Organization and SheDecides 25x25 Young Leader.
The COVID-19 pandemic currently constitutes the largest global public health crisis in a century, with daunting health and socioeconomic challenges. As the UN Secretary-General noted, this "is the greatest test that we have faced since the formation of the United Nations".
Governments are taking unprecedented measures to limit the spread of the virus, ramping up health systems and restricting the movement of millions. The pandemic has already severely disrupted access to life-saving sexual and reproductive health services and commodities.  Kenya has been among the countries hit with this pandemic in equal measure as other African countries. The government of Kenya through the Ministry of Health and Interior have provided swift measures to its citizens for containment of the virus. All the development projects have been halted with resources and efforts directed to fight the pandemic. Without the support provided by these projects, numerous women and girls in Kenya are now at risk of sexual and physical violence and exploitation.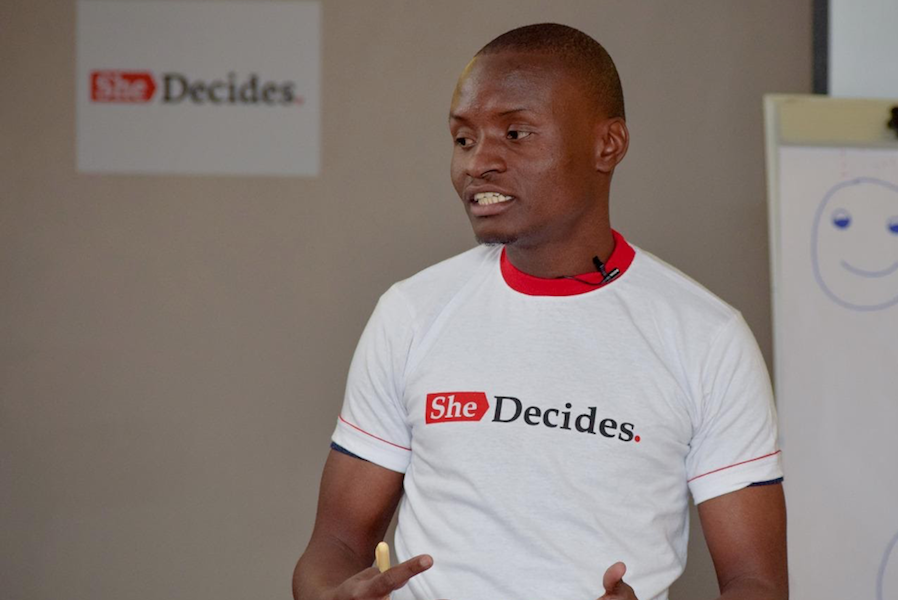 Lucy is a 20 year old woman with three children, living in the Dunga Unuse slums in Kenya. During one of our COVID-19 community awareness forums, Lucy shared her story with me. Her experience highlights these new challenges that many are now facing without access to sexual reproductive health services in Kenya at this dire time.
"You see Evans, I have a problem. I am in pain, real pain. I stay with my husband in a one roomed house and since the pandemic started, life has never been the same." Lucy says this as she takes out a handkerchief and wipes her tears.
She continues, 
"I sell local brew (chang'aa/alcohol) together with my children. My husband is a real drunkard and we solely depend on the chang'aa to survive at home, to feed my family, and pay for school fees, rent and many more expenses. I have been doing this for the last 6 years. Since the pandemic, the business hasn't been coping well. Customers haven't been coming, and so fending for my family has been difficult.
My husband has been pushing me to have sex with the local brew customers in order to earn an extra coin.  I have been beaten several times for not giving in to the demands of my husband and that of the customers. I can't sleep at night, horror thoughts cross my mind all the time and sometimes I just sit there and ask why me? What did I ever do to deserve all this? What did I ever do to be parent-less and unprotected by my husband? Life no longer has meaning to me. Yet, I have to stay on and fake smiles. I have to assure my children that I am okay. Even when am not. I don't want to make them feel sad. 
I am telling you this so that you can share these challenges with people in power and so actions can be taken. Many of us women are silently suffering at our households." 
This is just one story of one woman suffering during this pandemic. She represents many unreported and unheard cases on the ground.


Covid19 has created a new way of life that exposes women and girls to domestic and sexual violence. The current lockdowns, isolation, quarantine, restricted movement and social distancing have caused women and girls to spend more time in the home with potential abusers or known abusers. This has limited the reach of women and girls to access support services during this time. 
To ensure no more women face violence and oppression at this time of increased risk, governments globally need to commit funding and support so that domestic violence support services remain open and accessible to all. These services must be made available especially now when women and girls face higher risks.  
Attached you can find links to what I as a young person have been doing during this time to raise awareness for the preservation of sexual reproductive health and rights among girls and women.
https://www.facebook.com/stretchersYouthorg/videos/253369276038479/
https://www.facebook.com/stretchersYouthorg/videos/306296350355674/
https://www.facebook.com/stretchersYouthorg/videos/555181365376183/
https://www.facebook.com/stretchersYouthorg/videos/2966623990092206/
Evans Ouma is a Programs Manager at Stretchers Youth Organization and SheDecides 25x25 Young Leader.
The names of people used in this blog have been changed for protection reasons.