Government of Belgium
Alexander De Croo, Prime Minister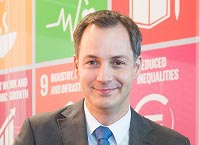 Hon. Minister Alexander de Croo, Prime Minister, Belgium
Alexander De Croo graduated in Business Engineering and completed an MBA at Kellogg School of Management (Northwestern University, Chicago, IL). He was the political leader of the Liberal Democrats in Flanders (Belgium). He is the current Prime Minister of Belgium. Prior to that he served as Minister of Development Cooperation, Digital Agenda and Telecom. Before, he worked as a strategy consultant at the Boston Consulting Group and founded his own company in the field of intellectual property rights. Alexander De Croo is a staunch promoter of women's rights and organised the first She Decides conference in Brussels (March 2017). He sits on the World Economic Forum's Global Agenda Council on Europe and was selected Young Global Leader in 2015.
SheDecides Champions are committed to creating a world where every girl and every woman has power over her body. This month the spotlight is upon one of the movement's first Champions: Alexander De Croo, Belgium's Prime Minister.
Prime Minister De Croo is a staunch promoter of women's rights and was a key organiser of the first SheDecides pledging conference in Brussels (2 March 2017). Recently at the European Development Days, he reaffirmed his government's position as fierce advocates for gender equality by pledging further €3 million for SheDecides.
"Men shouldn't be afraid of gender equality. When both men and women are truly free to exploit their full potential, it will benefit all of us […]. That is why I call myself a proud feminist"
Read the full interview with Minister De Croo below!
Tell us briefly why you are passionate about being involved with SheDecides?
1. Tell us what drove you to join SheDecides right from the start?
I immediately joined SheDecides because I was shocked that a group of elder men, in a comfortable office in Washington, decided on the lives of millions of women all over the world. By reinstating the Mexico City Policy, President Trump deprived women and girls, often living in challenging circumstances, of information and services essential for their health, their socio-economic situation and their personal development. SheDecides was a prompt reaction to this decision, but very quickly became a broad and positive movement for women's rights and particularly their sexual and reproductive health and rights (SRHR). SRHR is about a lot more than abortion. It includes comprehensive sexuality education, crucial for young girls to understand their bodies, to learn how to experience respectful sexual relations, how to avoid sexually transmitted diseases. It means access to modern contraceptives for effective family planning. It ensures that pregnant women have access to prenatal services and that newborns receive the appropriate neonatal care. Investing in sexual and reproductive health and rights for women is the best way to ensure that every child is wanted and no abortion is needed. In Belgium abortion is legal and we have one of the lowest abortion rates in the world.
2. What is the biggest challenge facing women and girls?
The biggest challenge for women and girls is to make truly free choices. To choose what they want to study, where they want to work, who they want to marry, how many children they want. In many countries in the global South girls are forced to marry at an early age and have children far too young, which jeopardizes their school career and their whole further professional career. It impacts their autonomy for the rest of their lives. But also in Western countries where gender equality has made huge progress, we see that girls are affected by gender stereotypes and gender roles. Women bear the brunt of unpaid household work, work part time to combine work and care for the children. That affects their income, their career, their pension later on. Although not so clearly visible as in some other countries, girls and women in the West are also limited in the choices they make. There is still a lot to do before we achieve true gender equality and of course men have a crucial role to play. It is a challenge for both men and women.
3. Tell us a story of a moment that drives you to do what you do every day.
In February 2015, as new minister of International Development, I went on my first field trip to the Democratic Republic of the Congo. In Goma, I visited a refugee camp called Mugunga where I sat down with a group of women. What they told me impressed me deeply. These women were obliged to leave the camp to find water and fetch wood, but they were afraid to do so. With good reason. When they left the camp they often fell victim of sexual violence. These women told me horrifying stories of abuse and rape. With dramatic consequences. They saw their choices restricted, their vulnerability increased and their future compromised. That moment, that encounter, strengthened my conviction to make human rights, and particular women's rights, one of the corner stones of my development policy in the years to follow.
4. How are we going to get to a future where SheDecides, without question?
I think the three pillars of the SheDecides movement are equally important. UNLOCK RESOURCES: donor countries should stay committed and pledge funding for SheDecides, but domestic resource mobilisation is just as important. All governments should realise that investing in women and girls is the key to development of any society. Development aid can never achieve long lasting results without the commitment of local governments. That is why CHANGE THE RULES is crucial, in all countries. And lastly STAND UP, SPEAK OUT is a task for all of us. Governments, community leaders, civil society organisations, public figures and individuals, men and women together, we all have to reach out and convince the world. We should unite and show that this movement is stronger than other currents that wish to restrict the free choices of women.
5. Anything else you would like to add?
Men shouldn't be afraid of gender equality. When both men and women are truly free to exploit their full potential, it will benefit all of us. I believe that we will not be able to face current challenges such as climate change, globalisation, migration and job creation in times of digitalisation and artificial intelligence if we waste the talent of half of the population. That's why I call myself a proud feminist!