SheDecides Kenya Rocks the RHNK Conference 2019!
2nd July 2019
Last week Reproductive Health Network Kenya (RHNK) held their annual scientific conference in Malindi, Kenya. RHNK are a Friend of the SheDecides movement, and one of the key players in the SheDecides local movement in Kenya.
This year, the conference theme was investing in young people's sexual and reproductive health and rights. SheDecides Champion Patrick Mwesigye was at the conference and expressed excitement at the high level of youth participation. He had this to say:
"Among the highlights of the discussion was the need to strengthen and create more spaces for dialogue and learning, activism and advocacy for the fundamental reproductive rights for women and girls including young people. The call for access to safe abortion, sexuality education, contraception and challenging negative social norms was loud and clear"
SheDecides Kenya was out in force - with an exhibition booth, side event and a pre-conference youth caravan.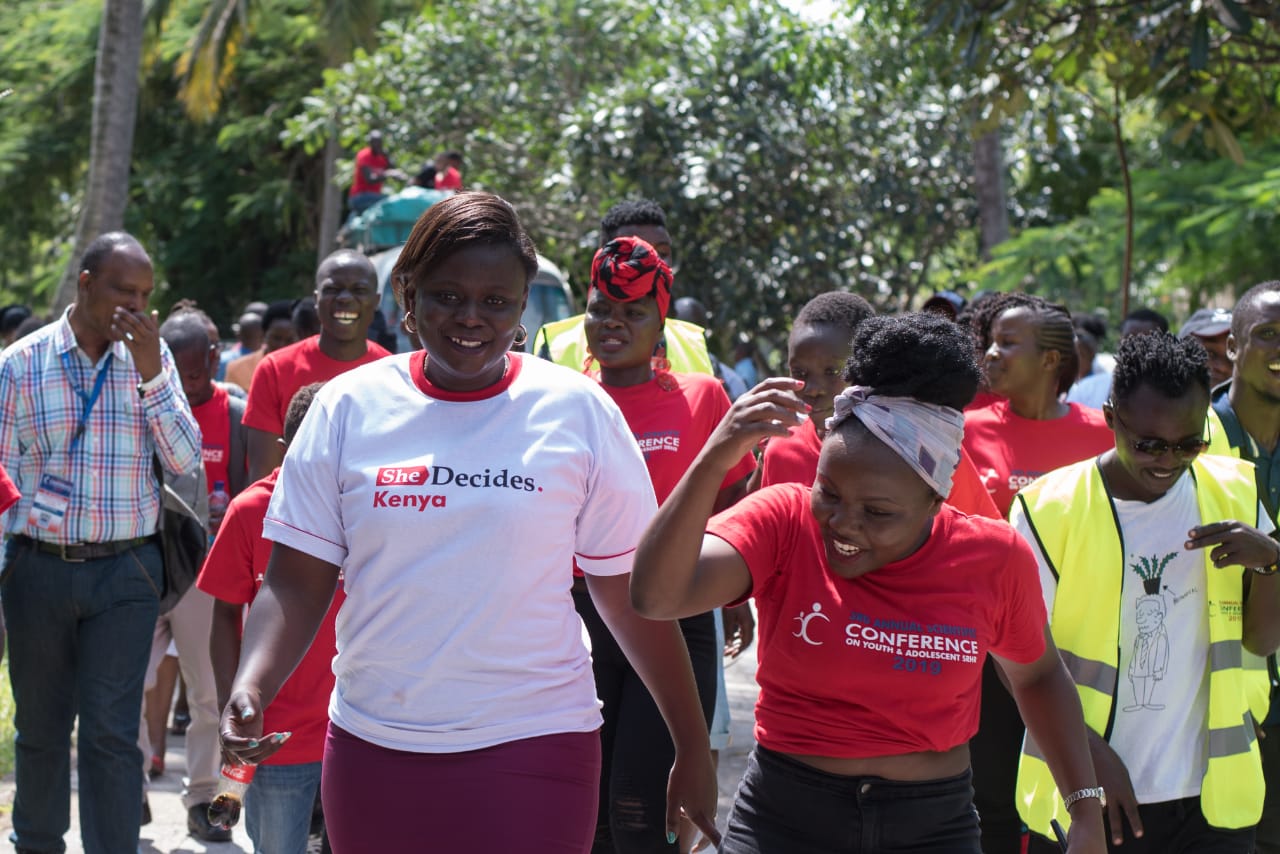 The side event was organised and run by young people who perfectly displayed the energetic, youth led momentum that forms the core of the SheDecides Movement. Other attendees included health workers, advocates and policy makers from the ministry of health and UNFPA.
The youth caravan was particularly important. A hundred young people were supported to travel together from Nairobi to Malindi, and stopped in several towns during the the 600 kilometres journey to gather youth perspectives on the accessibility and quality of sexual and reproductive health services in Kenya.
Evans Ouma, the 25x25 young leader from Kenya, described the youth caravan as 'epic', and will be using the perspectives gathered to inform the 25x25's Vision 2044 for the ICPD@25. One young person explained that they wish they could talk to their parents about sex education, but as things stand the churches and schools are their only source of information.
At the Nairobi Summit in November, the official celebration of ICPD@25, the 25x25 will declare their collective vision for the future – Vision 2044. Through gathering youth perspectives like this, they will outline what more needs to be done to create the new normal where SheDecides. Without Question.
Nelly Munyasia, Executive Director of RHNK, reports the conference was a vibrant success with 375 participants (60% of whom were young people) coming together from across East Africa to discuss, share and plot out how we can develop better youth friendly services in the region.