SheDecides marches for body autonomy
7th January 2020
On 18 January the SheDecides movement will take to the street as one of the flagship partners of the annual Women's March Global. Take action and join a march for a world where SheDecides!
We'll join thousands of people in more than 30 countries worldwide, mobilising to demand a fairer, more equal and sustainable future.
My body my choice
The theme for the march is body autonomy – drawing attention to the systemic oppression women face in their attempts to decide about their body, life and future. This includes abortion rights, sexual and reproductive health rights (SRHR), sexual consent, period equality, family planning, access to healthcare services and information, and more.
It's a fundamental human right to decide what happens to one's own body. But in the last year alone, women's sexual and reproductive and other human rights have experienced a massive rollback around the world. At a recent United Nations General Assembly meeting, the United States joined 19 member states in denying women a right to access safe and legal abortion.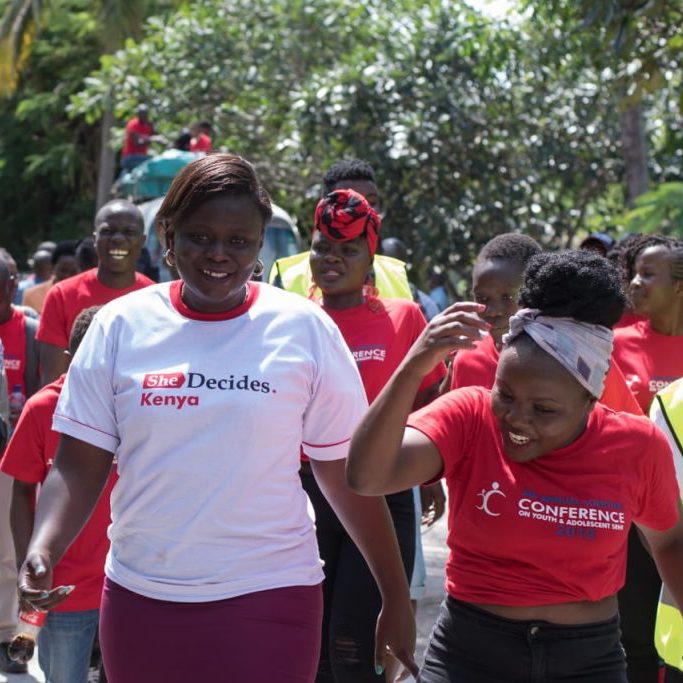 Marching for a decade of change
2020 will be a significant year for women's rights and gender equality. It marks 5 years since the inception of the SDGs (Sustainable Development Goals), 25 years since the Beijing Platform for Action and the 20th anniversary of UN Security Council resolution 1325 on women, peace and security.
All of these moments are opportunities to move the needle closer to gender equality.
Join or start a march in your hometown
Are you ready to march for a world where #SheDecides about her body, her life and her future – without question?
To take part in Women's March Global you can find a march near you, or start your own by following this link: https://womensmarchglobal.org/events/
If you are taking part, we are asking all SheDecides marchers to:
Wear red clothing at the march.
Post updates on social media using the hashtag #SheDecides and "I march for a world where SheDecides about her body, her life, her future. Without question."
Women's March Global marches will be held in cities and towns across the world including Canada, Central and South America, Europe, Africa, Asia, and Australia. The Marches will be live-streamed to reach a wider audience, enable greater international participation, and showcase the power of the women's rights movement across all digital channels.
To find out more about Women March Global and how you can get involved visit https://womensmarchglobal.org/events/