SheDecides @ Women Deliver
3rd July 2023
SheDecides is excited to attend Women Deliver 2023 in Kigali this July. The moment presents an opportunity to come together, connect with allies and speak out for bodily autonomy and for a world all people can decide what to do with their bodies, lives and futures.
We are excited to share with you an overview of the events SheDecides is hosting at Women Deliver.
Tuesday 18 July:
Abortion is Healthcare - UHC Best Practices, from Politics to Provision!
1.30pm Concurrent Session, Kigali Convention Centre
In partnership withe the Safe Abortion Dialogue, SheDecides is excited to host a panel discussion on "Abortion is Healthcare - UHC Best Practices, from Politics to Provision!"
The high-level panel event is an official Women Deliver concurrent session and will provide an opportunity to highlight best practices, progress and innovations on delivering abortion as essential healthcare. We will hear perspectives, evidence and examples of success from leading healthcare and SRH experts from Governments, Civil Society Organisations and Donor organisations from across the globe.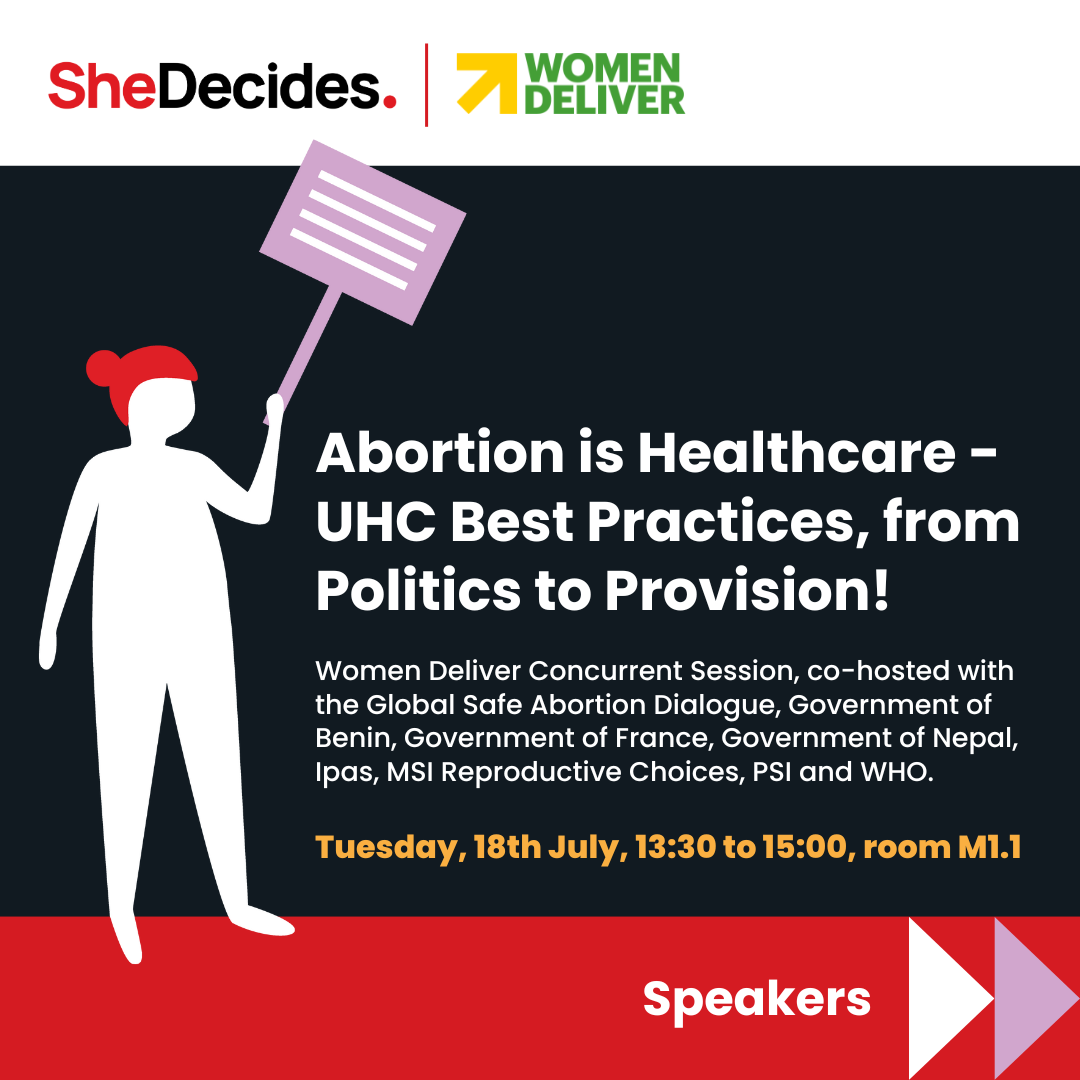 Speakers include:
Jean-Pierre Wangbe, Head of the Legal Unit, Ministry of Health, Government of Benin
Delphine O, Ambassador, Secretary General of the Generation Equality Forum, Government of France
Dr. Sangeeta Kaushal Mishra, Additional Health Secretary, Ministry of Health and Population, Government of Nepal
Dr. Bilguissou Balde, Regional Director of Ipas Francophone Africa and the Interim Director of le Centre ODAS
Dr. Bela Ganatra, Unit Head, Preventing Unsafe Abortion, Department of Sexual and Reproductive Health and Research, World Health
Organisation Dr. Sarah Onyango, Senior Technical Advisor, Self-Care, PSI and Project Director of the Self-Care Trailblazer Group
Esi Asare Prah, Advocacy and Donor Relations Manager, MSI Reproductive Choices Ghana
Sarah Thomsen, Lead Policy Specialist for Health and SRHR at The Swedish International Development Cooperation Agency (Sida)
Moderated by Sonali Silva, SheDecides Guiding Group Vice Chair
Tuesday 18 July:
Together For a World Where SheDecides
SheDecides is excited to co-host a networking reception hosted by the Swedish Ambassador in Rwanda, in partnership with Canada, and the European Union Delegation in Rwanda. The high-level reception will provide an opportunity for Champions to come together and connect with allies and SRHR experts from across the globe.
Wednesday 19 July:
The Heart Of The Matter: Embrace The Reality Of Young People's Sexual And Reproductive Health And Rights Today
SheDecides is delighted to support SheDecides Champion Rutgers with the launch event of their ICPD+30 shadow report and campaign. The evening reception will provide a youth-led space and an opportunity to hear first hand from youth advocates from across the globe.