In conversation: Jona Turalde on feminist movements, political action and challenging power
3rd March 2022
Jona is the Vice-Chair of the SheDecides Guiding Group and has been an active member of SheDecides since the movement was sparked in 2017. Here she discusses the importance of collective, feminist, political action for bodily autonomy and sexual and reproductive health and rights, in the Philippines and everywhere, and how she's committing so #SheDecidesHerFuture.
SheDecides started as a pledging moment to plug the gap created by the reinstatement and expansion of the Global Gag Rule. It evolved into a rallying cry and a feminist movement to Stand Up and Speak Out for bodily autonomy. Why are feminist movements important in driving change for Her Right to Decide?
Jona: Collective action is the core of feminist movements. Feminists have created a cultural revolution - one which demands our right to decide about our bodies, lives and future, and which puts on the map that our right to decide is a political action.
What's changed for bodily autonomy and sexual rights in the past five years?
Jona: The Global Gag Rule has been repealed, but a lot of work still needs to be done. For the last five years, we have ultimately ensured that young people are at the front and center of these issues. We lead and are involved in different norm-change programs, from campaigning, mobilizing, to capacity building of young people in understanding bodily autonomy.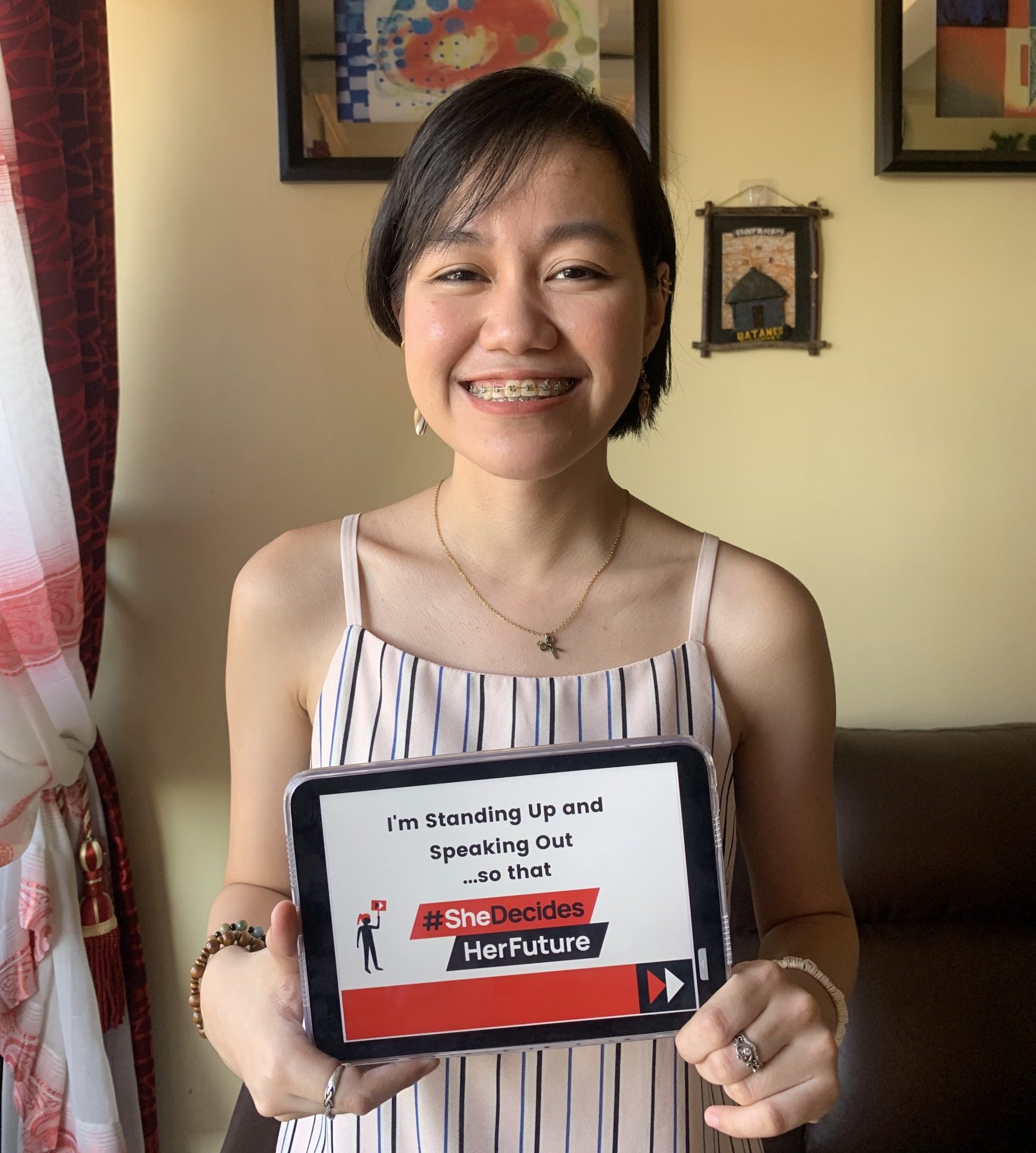 What challenges lie ahead for bodily autonomy activism and how can a feminist movement help combat them?
Jona: "Bodily autonomy" is still being attacked by disinformation, lack of understanding and internalized sexism. We are being diluted by the opposition as a one-size-fits-all "anti-life" movement but in fact, we are very much pro-life (pro-human rights). To call for bodily autonomy is to demand intersecting human rights for all!
This is where feminist movements are so significant. We challenge these misconceptions and stereotypes in a language that's understandable for everyone. Feminist movements connect beyond differences of values and ideals. We organize to build collective power and imbibe feminist leadership in the everyday. Feminists translate moments to movements. This is where we are most powerful and united.
What does #SheDecidesHerFuture mean to you?
Jona: I grew up as a youth advocate thinking I'm not feminist enough. To be feminist is to be alongside grassroots communities and to go beyond the comforts of one's home. The "real feminist" is someone who's out there on the streets, demanding human rights for everyone.
But I am a victim and many more women and girls of how patriarchal our society is and how systemic our struggles are. The past 5 years should have been my prime youth years, however, I've lived in a country where its chief executive has been vulgar to tell that he can shoot a woman in her vagina, where misogynist ideals are normalized in the every day, where people are suffering because of their sexualities.
#SheDecidesHerFuture means that regardless of differences and privilege, to be a feminist is to fight for a future where all types of love, mutual respect, and independence are acknowledged and celebrated. Everywhere, every day should be a safe and brave space of feminist solidarity!