Canadian government announces $93.7 million SRHR funding during #SheDecidesNow roundtable
3rd July 2020
On 22 June, SheDecides convened the inaugural #SheDecidesNow Champion roundtable, co-chaired by SheDecides Champions Sonali Silva, young leader and SheDecides Guiding Group Member and the Honourable Karina Gould, Minister for International Development, Canada. The event, which was a culmination of the recent #SheDecidesNow campaign, spotlighted SheDecides activists working to protect her right to decide during Covid-19.
The one hour virtual roundtable served as an opportunity for SheDecides Champions from across the globe to come together and hear testimonies from communities not being heard and issues being ignored during the pandemic, and to stand in solidarity and raise awareness of the extent to which women and girls have been disproportionately impacted by Covid-19. 
The event kicked off with a powerful rendition of the SheDecides Manifesto performed by the SheDecides 25x25 Generation of Change, creating a feeling of energy and opportunity.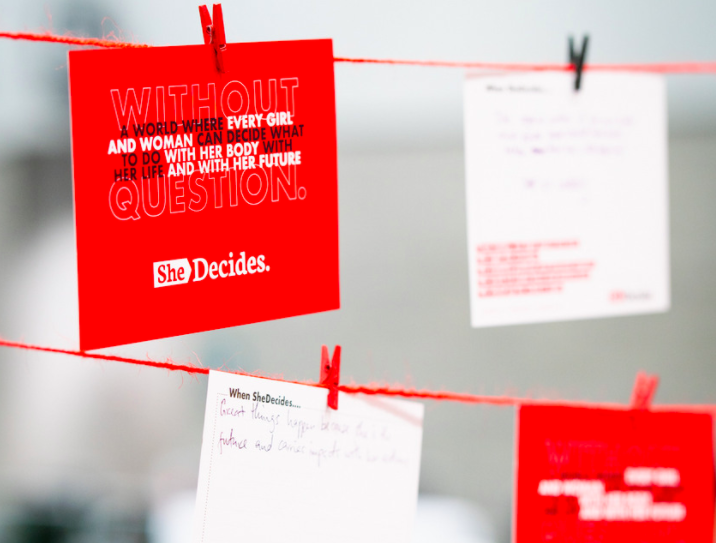 Young activists from the movement spoke passionately on specific bodily autonomy issues worsened by the pandemic. Speaking on the topic of restricted access to safe abortion in Brazil, an issue that has worsened as a result of the pandemic, 25x25 Brazilian young leader Gisela Foz inspiringly highlighted, "as an activist, I had to switch my work from advocacy to direct assistance. The decriminalization of abortion is urgent." 
Committed Lebanese activist and AiWomen representative Moufeeda Haidar discussed how the pandemic had seemingly led to an increase in early and forced marriage in Lebanon and urged the Lebanese Parliament to "discus and adopt the draft law submitted by local organizations to raise the age of marriage to 18 years old."
We also heard from South African activist and 25x25 young leader Saidy Brown, who gave a thought-provoking account of the marginalization of HIV positive and queer women in South Africa. She spotlighted the lack of sexual health education made available for queer women to access and questioned "why are women not being given the information they need to protect themselves?"
During the event, the Government of Canada's announced $93.7 million in funding to secure sexual and reproductive health and rights (SRHR) for the most vulnerable globally. The support will be focused towards areas often neglected by government funding, such as comprehensive sexuality education, family planning, female genital mutilation and the right to safe abortion.
On the announcement, Champion and Co-Chair Karina Gould said: "If we don't put the needs of women, girls & children front & centre in our response, we not only risk losing important gains made in these areas, we risk losing even more lives. Our goal is to ensure every girl & woman is treated with respect & has the right to decide about her body, life & future. That's why I'm announcing $93.7 million in funding today."
The interactive event also included a plenary session, during which SheDecides Champions, including Ministers, policy makers and heads of organizations, offered their thoughts and responses. Each speaker welcomed this much needed opportunity to engage with and hear from inspiring young activists and recognised the continued urgency to put the issue of women and girl's bodily autonomy at the top of the political agenda, particularly during this crisis. 
SheDecides ChampionChristine Stegling, Executive Director of Frontline Aids, highlighted the essential "need to keep providing a platform for voices of the unseen and unheard", whilst French representative and Secretary General of the Generation Equality Forum 2020 Delphine O reaffirmed France's commitment to championing SRHR in the future and their welcomed decision to extend the date for medical abortion by two weeks in France as a result of the pandemic. 
New UK SheDecides Champion, Baroness Liz Sugg, also made a bold commitment to "use my voice and position to shine a light on these important issues."
Collectively, the group has pledged to continue using their platforms, their voices and the spaces they occupy to prioritise women's right to decide over their bodies, their lives and their futures. 
Closing the event, Sonali and Minister Gould called on participants to see the pandemic through a different lens – one of opportunity and hope that will bring new groups together to unlock resources and create a new normal, where the rights of women and girls are not just protected, but are better than before the pandemic. They emphasized the power of collective action and the incredible positive change that can happen when young people and policy makers come together. 
Sonali left participants with the important reminder that "we are a movement, so we must keep moving, especially during times of crisis". Ultimately, "we don't want to go back to the way things are," she highlighted.
In her closing statement, Minister Gould thanked SheDecides young activists and critically recognized "that the world changes when young people demand it. This shows why youth engagement matters and why your voice matters."
Following the event, Tikhala Itaye, SheDecides Chair, said: "The #SheDecidesNow roundtable was an important moment in building a bridge between young activists and policy makers. I'd like to thank all those who shared the harsh realities for women and girls around the world, and what actions they've been taking. Alongside the Government of Canada's bold funding commitment, this moment of solidarity is an important mark of support for activists championing her right to decide at a time of unprecedented crisis."
The discussion was captured by graphic artists @thefuselight
Do you believe in a world where SheDecides about her body, life and future? Sign the SheDecides Manifesto to join the movement!