Bernard Haufiku
Special Adviser to vice president Nangolo Mbumba on health matters, Namibia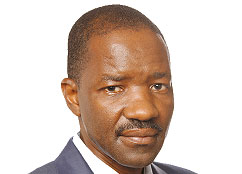 Hon. Minister Bernard Haufiku, Special Adviser to vice president Nangolo Mbumba on health matters, Namibia
Dr. Bernard S. Haufiku is a parliamentarian of the Cabinet of the Republic of Namibia. Furthermore, he is a member of the Executive Board of the WHO.
Dr. Haufiku studied medicine at the University of Witwatersand in Johannesburg and received training in Anesthesia from the College of Medicine of South Africa. He was also privileged to attend the Harvard Leadership training in Boston, Massachusetts in May 2015.
Dr. Haufiku has more than 15 years of clinical experience both in the public and private practice during which he took a keen interest in HIV management and thereby becoming a member of International AIDS Society (IAS) and attending all its conferences since 2009 to date. Providing leadership and enabling environment for healthcare service delivery and reducing maternal mortality as well as elimination of mother to child HIV transmission are some of Dr. Haufiku's objectives during his term of office.