Harjit Singh Sajjan
International Development Minister
The Honourable Harjit S. Sajjan was first elected as Member of Parliament for Vancouver South in 2015. He served as Minister of National Defence from 2015 to 2021. Minister Sajjan immigrated to Canada from India with his family when he was five years old. He grew up in South Vancouver and benefitted from everything the area's diverse and culturally rich community has to offer.
Minister Sajjan has made serving others a cornerstone of his life. He is a former detective with the Vancouver Police Department, a former Lieutenant Colonel with the British Columbia Regiment (Duke of Connaught's Own), and a long-time advocate for youth education and mentorship programs.
In 2022, Minster Sajjan joined world leaders and activists continuing Canada's long standing support for gender equality as a SheDecides Champion standing up for the rights, health, safety and livelihoods of women and girls around the world.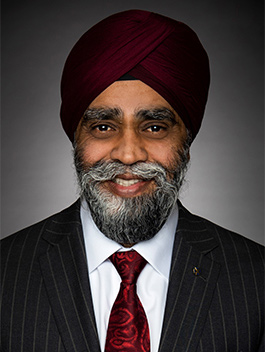 Anita Vandenbeld
Parliamentary Secretary to the Minister of International Development
Ms. Vandenbeld is an international expert on democracy and human rights. She has worked in over 20 countries on inclusive governance and women's leadership, including with the United Nations Development Programme (UNDP) Democratic Governance Group in New York. There, she managed a multi-partner international network that aimed to promote women's political participation.
Ms. Vandenbeld was also a senior advisor with the UNDP in Bangladesh, and with the Organization for Security and Co-operation in Europe (OSCE) Mission in Kosovo. In 2008, she was awarded the Canadian Peacekeeping Service Medal in recognition of her work in Kosovo. In addition, Ms. Vandenbeld served as resident director for the National Democratic Institute in the Democratic Republic of the Congo, worked with OSCE in Bosnia and Herzegovina, and worked with the Canadian Parliamentary Centre on post-conflict democratic development in the Balkans. She also conducted a study on women's leadership for UNDP in Vietnam and trainings on women's leadership in Haiti.
Born and raised in Alberta, Ms. Vandenbeld obtained her undergraduate degree at the University of Calgary before completing a Master of Arts in History at York University.