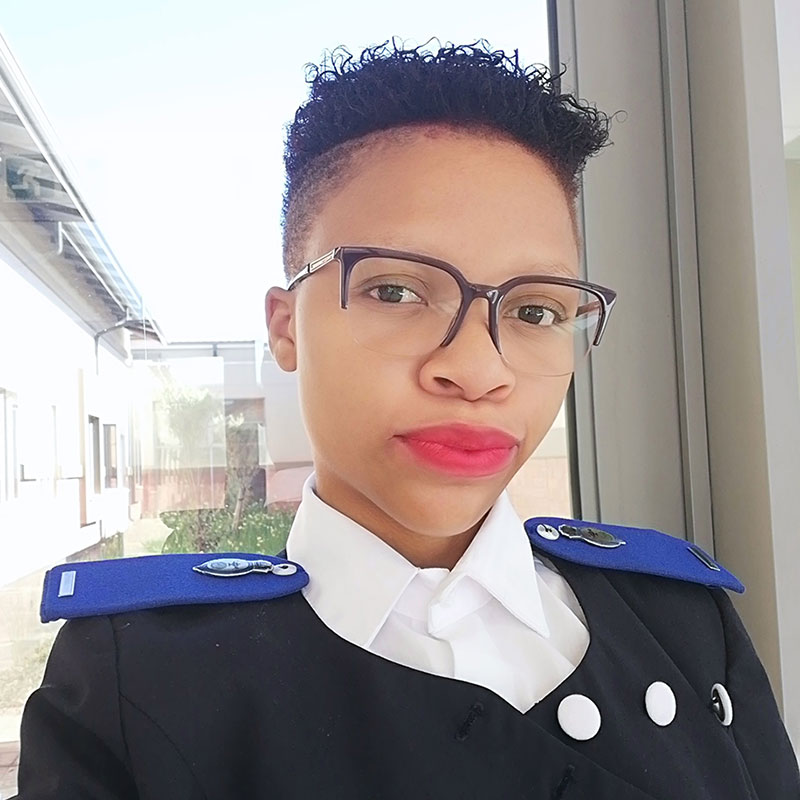 Social Media
Facebook Mamello Makhele
Engagement
Mamello is a midwife from Lesotho with 4 years of clinical experience in HIV. She is also the founder of 'MobiHope', the first health mobile application to address issues of HIV in Lesotho. In addition, Mamello works as a medical consultant for BARADI, an NGO that raises awareness of backstreet abortions and acts as a focal point personnel for the United Nations major group for children and youth in AFRICA. She is also a Board member of Catholic Health Centres in Lesotho.
Area of Interest
Mamello is keen to incorporate technology to tackle the issues surrounding HIV, she intends to do this through 'MobiHope' which aims to solve the burden of HIV, making sustainable health a reality. As a midwife she is also interested in Sexual and Reproductive Health Rights and teenage pregnancy.
In Her Words...
"She has a right to exercise autonomy over when and how to embrace parenthood".
Rooted in this phrase is a paradigm shift which steers a new dawn for many women and girls around the globe.
It is the fundamental human right for SHE to have access to family planning commodities. Despite the efforts made to advocate for this human right, maternal mortality as well as teenage pregnancy are still on the rise in Lesotho. Being a midwife who has experienced maternal deaths and complications from pregnancy has propelled me to advocate for the use of family planning commodities. Limited access and lack of information have been pointed out as the major challenges, especially for those residing in the rural areas. This is due to the fact that the supply of these commodities in the government hospitals and clinics is inconsistent, which makes it impossible for patients who have to walk miles to the clinic to adhere to their chosen method.
Equally important, the government does not provide a full range of all available products in the country to the aforementioned clinics. This leads women to reject the use of any commodities due to the adverse effect of the only available method in their particular clinical setting. This has led me to lobby the government for the accessibility and availability of all family planning products.
Culture, which plays an integral part in Lesotho's society, has made the possibility of young girls engaging on the topic of family planning a very sensitive issue. This has ultimately led to the high statistics of teenage pregnancy and related complications, including maternal death.
I therefore educate the young girls on what their sexual reproductive health and rights are, debunking myths around family planning as well as providing a detailed mode of action and clear explanations of the potential side effects for each product, so they can make informed choices.
I believe we can reduce maternal mortality through a combination of ways by improving and intensifying adolescent health services in facility and outreach. We can remedy the myths by offering family planning counselling in connection with infertility, as well as counselling on all of the available treatment methods, and adopting a ONE stop approach which integrates HIV, TB and cancer screening services.
Understanding the need for focused group consultations is equally important, because the interventions adopted will totally relate to a community's unique needs as well as creating a sense of ownership so people feel included in the intervention, bearing in mind the notion "NOTHING FOR YOUTH WITHOUT YOUTH".
Tell us briefly why you are passionate about being involved with SheDecides?
Being able to use my POWER to create an impact, to challenge the status quo as well as daring to go beyond cultural norms is what excites me as one of the SheDecides 25x25.
To be one of the many forces who have dedicated their efforts to influence change by advancing the rights of women and girls, to be in a position where we can together amplify our VOICES for a bigger impact by creating a world where SHE decides is a humbling experience for me.