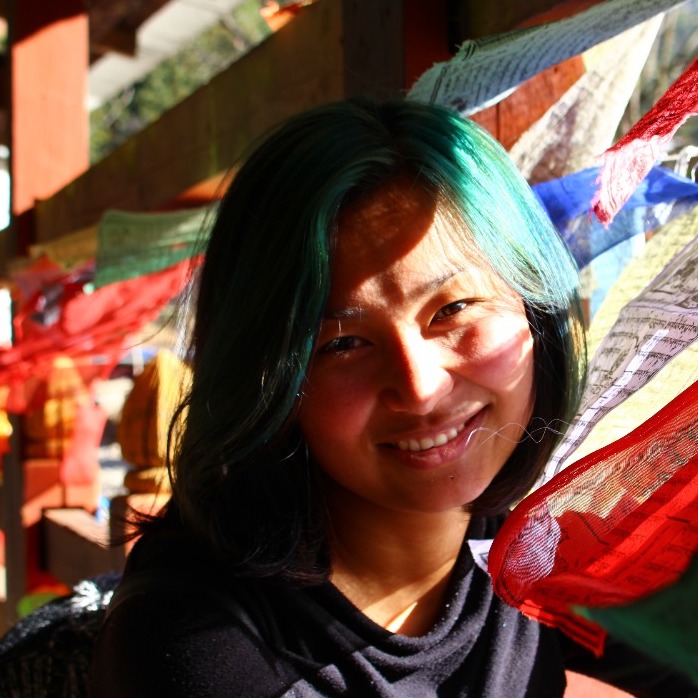 Social Media handles:
Twitter - @the_yangday
Facebook - Yangday La
Instagram - @t.h.e_y.a.n.g.d.a.y
Engagement
Sonam was the country coordinator for Design For Change initiative in 2018 in Bhutan – a four-step process titled "Feel, Imagine, Do and Share," that empowers children from as young as ages 7-8 years old to be the positive change they wish to see in their world.
In 2015/2016, she was the host of a TV talk show on the national Channel Bhutan Broadcasting Service (BBS), promoting positive youth narratives, empowering young people around Bhutan to take action and become conscious change-makers; in parallel she worked for the National Radio (Kuzoo FM) station for 3 years as a Radio Jockey. Sonam has also conducted workshops and presentations in High schools creating awareness on Safe sex and STDs as part of Druk Adolescents Initiative for Sexual Awareness Network (DAISAN) with RENEW Bhutan.
Area of Interest
Sonam aspires to take up the case of Bhutanese nuns sexual health and sanitation education and has partnered with a nunnery in Bhutan where she initiated a reading & writing programme and teaches them about reproductive health and hygiene. She is currently working on a TV show concept (season 2) exploring sensitive topics like Sex and Healthy Relationships, and is also planning to launch a book this year. Sonam also aspires to lobby the Bhutanese Government to provide Comprehensive Sex Education as a Requirement for all Schools in Bhutan.
Tell us briefly why you are passionate about being involved with SheDecides?
"Margaret Mead said, 'Never doubt that a small group of thoughtful, committed citizens can change the world; indeed, it's the only thing that ever has.' For the future of equality for all, we need to do good work today."